There is something extra special about sitting down together to make crafts in the run up to Christmas. Whether it is making Christmas Cards for family and friends or new Ornaments for our Christmas Tree. There is always a happy sense of anticipation in the air of good times to come. And it's a great excuse to turn up the Christmas tunes and eat lots of mince pies together.
We love to make new Christmas crafts each year and bring out our previously made treasures. It's a great giggle to look back at the masterpieces from when the kids were really young.  Nowadays my kids love to add their own artistic flair to our Christmas craft projects. It is great to see them developing their own ideas and sharing them with their siblings as well, who always manage to add their own little spin on it as well.
10 Christmas Crafts for Siblings
This post contains affiliate links for your convenience.
We've had our Bubble Wrap out again for some of our Christmas cards this year. Will you make some of our Bubble Wrap Christmas Tree's to go on the front of your cards?
Making Christmas Tree decorations is a festive staple over here. This year we are adding our Brilliant Bubble Wrap Baubles to our Christmas Tree and Memory Box.
Last year we added a quirky new texture to our traditional Salt Dough Decorations. We can't wait to bring them out again this year.
Home-made gifts are made and sent with love at Christmas. Why not bake and make some of our Christmas Tree Cookies Treats with DIY Gift Tags. We will be making a start on these soon.
Are you a Washi Tape fan? I bought a stack of Christmas Washi Tape last year (well you never know when it might come in handy). We used some to create these cool Kid-made Christmas Bauble Cards.
Hang our Simple Bubble Wrap Holly Wreaths indoors this Christmas.
Ask siblings to create the surprises behind each door on our DIY Advent Calendars for siblings to make for each other. We had so much more fun with these, than waking up to a rubbish chocolate for our breakfast each morning.
Make our award winning Bubble Wrap Snowman Snow Globe for your Christmas Tree or add a festive picture of your choice.
Sit down together and make our Christmas Tree Collage Cards. Great for kids of all ages to make. I loved seeing how each of my kids put their own stamp onto these cards.
Work together to make 5 Golden Rings.

Looking for more ideas? Check out these posts from my blogging buddies celebrating Christmas, Kwanzaa and Hanukkah:

Top 10 Homemade Christmas Cards Kids Can Make from My Joy-Filled Life
Top 10 Christmas Cutting Skills Ideas for Kids from Powerful Mothering
Top 10 Christmas Math Activities from Play & Learn Every Day
Top 10 Candy Cane Science Experiments and Activities from Preschool Powol Packets
10 Nativity Crafts and Activities for Children from Something 2 Offer
If you love STEAM Activities then you are going to LOVE this book: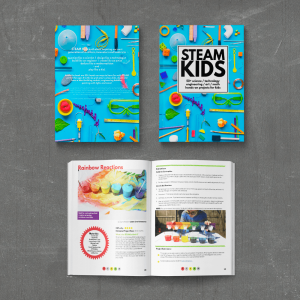 Available as an E-BOOK or PRINT VERSION.