10 Delicious ice-cream activities for kids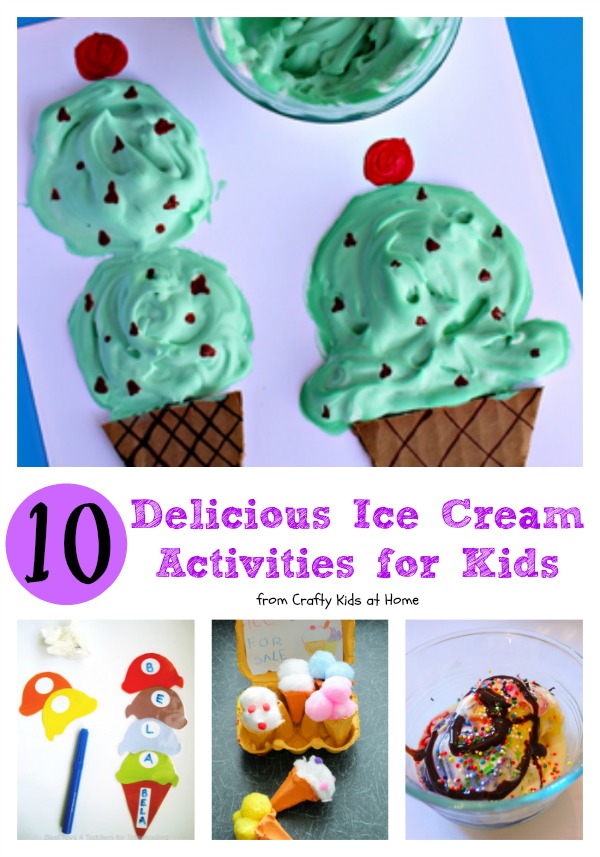 Summer has officially arrived, so we are getting ready to eat lots and lots of ice creams to keep us cool! What is your favourite flavour?
Ice creams aren't just for eating though, they are also a great topic to focus on in kids arts and crafts activities, pretend play scenarios and learning games this summer.
Below you will find the best of the best ice cream inspired activities from the coolest bloggers around:
10 Ideas for ice-cream activities for kids
 Take some egg cartons, add in some cotton balls and small pom poms and you have your very own pretend play ice cream stall – from In the Playroom.
Download this cool free printable name recognition game "Ice-cream my name" – from Totschooling
 You won't get full eating this ice-cream, but you will have a lot of fun exploring this Ice Cream Sensory Bin  – from Rubber Boots and Elf Shoes
 Whip up your very own ice-cream dough – from Mama Papa Bubba
 Use these cute playmats to create your own ice-cream sundaes.  Thye are made using our favourite sensory ingredients shaving foam and water beads – from You Clever Monkey
 Have fun with this Invitation to play and learn activity – from Learn with Play at Home
Make your own fuzzy felt shapes and have fun building your own pretend ice creams – from Crafty Kids at Home
Mixing up puffy paint is the perfect way to recreate some ice cream inspired art work –  from Crafty Morning
Cool down with this colour mixing activity using ice cream as your canvas – from Tinkerlab
Make your very own ice cream in a bag –  from Hands on: as we Grow
Which one will you try first?