Easter is fast approaching, so here is a round up of 10 of the best Preschool Easter Activities to keep your little ones busy whilst you hide the eggs!
We have been busy over here at Crafty Kids at Home making our Easter Cards to send out to family and friends. Last year we had great fun making these Easter Splat Art Cards and this year we have used our favourite junk material Bubble Wrap on our cards. And we cannot wait to bake our favourite Easter Nests again once the kids break up from school.
What have you been getting up to for Easter this year?
Click here to receive our FREE eBook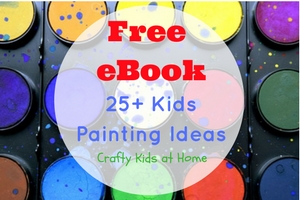 10 Preschool Easter Activities
Go on a Crayon Resist Easter Egg Hunt in this beautiful Spring Watercolour Art Project.
Introduce sewing to your pre-schooler with these Simple Hand Sewn Felt Easter Egg Tree Decorations.
Our Paper Plate Crazy Chicks make a colourful piece of Easter Décor.
Light up your Easter Brunch Table with these delightful DIY Easter Lanterns.
Enjoy some Science Fun with this Erupting Eggs Experiment.
Have fun making these super cute Paper Plate Easter Bunnies.
Turn miniature popsicle sticks into these adorable Chicks.
These cute Paint Chip Easter Eggs would look great on the front of a home made Easter Card.
Now here is a cool tool to add Polka Dots to your Easter Eggs Card.
Record those precious footprints on this Easter Canvas Keepsake
Click here to receive a FREE copy of our eBook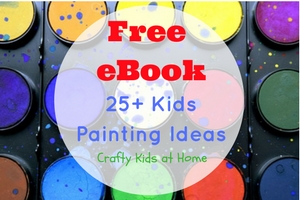 Now find out what our friends have been getting ready for Easter:
Top 10 Egg Science Experiments for Kids from Little Bins for Little Hands
Top 10 Lamb Ideas for Easter from Witty Hoots
Top 10 Easter Recipes for Kids from Creative World of Varya
Top 10 Easter Fine Motor Activities from Craftulate
Top 10 Cutest Chick Crafts for Kids from Our Whimsical Days
Top 10 Peeps Treats from Our Good Life
Top 10 Easter Sensory Activities from Play & Learn Every Day
Top 10 Easter Preschool Printables from Living Life and Learning
Top 10 Free Printables for Easter from Sunny Day Family
Top 10 Spring Chick Crafts from Rhythms of Play
Top Ten DIY Easter Baskets by Teach me Mommy
Top 10 No-Candy Themed Easter Basket Ideas! From Preschool Powol Packets
Top 10 Plastic Egg Educational Activities for Kids from Something 2 Offer
Top 10 Easter Traditions for Kids by Playground Parkbench
Top 10 Easter Themed Desserts from Crafty Mama in ME
Top 10 Easter Handprint Crafts from Messy Little Monster
Top 10 Peeps Experiments for Kids from Lemon Lime Adventures
Click below for recipe inspiration and cooking activities to enjoy eating and making with your kids.