It's Friday and this week We're In Love with OWLS! We are delighted to be part of the awesome new "It's Friday We're In Love" linky party and we are very excited about our first set of featured posts. Each Friday one of our 9 co-hosts will be posting the ideas that they love from the weekly theme. But don't panic if you have not had chance to link up your Owl post yet. Each theme will remain open permanently to provide a ongoing source of inspiration. Plus every month new themes will be added.
We have already shared 50+ Autumn Leaves Activities, Crafts & Decor  from Playground Park Bench and 50+ Apple Ideas from Sunny Day Family on the linky.
30 Owl Arts, Crafts & Activities
I love owls and we've had some awesome owl posts linked up so far. You can find links to all of the posts linked up at the bottom of this post (don't forget to add your own in here as well!)  and below are just a few of my favouties.
Owl Art Projects
Owl Suncatcher from Arty Crafty Kids
Autumn Owl Leaf Art from Crafty Kids at Home
Circle Paper Punch Owl Collage from Craftulate
Owl Craft Projects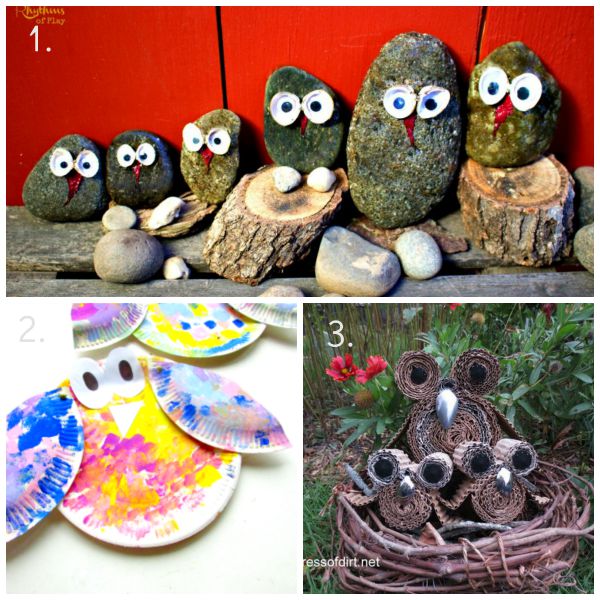 Stone and Shell Owl Craft from Rhythms of Play
Paper Plate Owl from Arty Crafty Kids
DIY Owls made from Cardboard Boxes from Empress of Dirt
Owl Activities
Owl Babies Tuff Spot from Adventures of Adam
Looks Whoo's Learning Counting Paper Tube Owls from Kitchen Floor Crafts
Make and Owl Busy Bag from Sunny Day Family
Meet the rest of the Co-hosts on It's Friday We're In Love:
PlaygroundParkbench  Facebook ♥ Pinterest ♥ Instagram
Sunny Day Family  Facebook ♥ Pinterest ♥ Instagram
Nemcsok Farms  Facebook ♥ Pinterest
Crafty Kids at Home  Facebook ♥ Pinterest ♥ Instagram
Rhythms of Play  Facebook ♥ Pinterest ♥ Instagram
HEN Family  Facebook ♥ Pinterest ♥ Instagram
Next Friday Nemcsok Farms will be featuring the Pumpkin posts that they are in love with!
You can add your pumpkin posts here and find out what new themes we have recently added in as well.
Even more Owl Inspiration