Are you tired of the same old pretend play ideas that you do with your kids? Inject some new passion into your playtime with these fresh and fun ideas for Imaginative Play.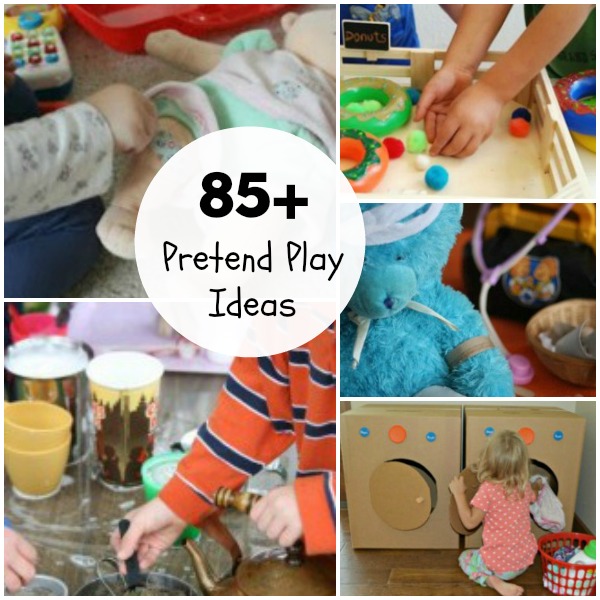 Benefits of Imaginative Play
Developing Creativity – escaping into a world of make believe provides your child with the freedom to explore and develop their own creativity in a comfortable environment. This will help prepare them to think more creatively when trying to solve problems in adulthood.
Growing Imaginations – popping on a costume or playing with just a few pretend play props might be all your child needs to spark their imagination. Once they start on a pretend play adventure encourage them to take the lead in a role play activity and see where they can take it or ask them questions to help them carry on with a story as they play. The more they grow their imagination now, the bigger their ideas will be when they grow up.
Language Skills – Engage your child in a simple play or watch them play shops with siblings and friends and see how quickly they start to learn new words and ways of describing things. Talk to them as they play to keep the conversations flowing and to introduce new words to your children.
Social Skills – Playing together with siblings, friends or caregivers is the perfect forum to improve your child's social graces. They learn how to take turns and share responsibility as they swap roles in different role play scenarios. My own kids love to work together to put on shows for us to watch about dinner time. This could be a simple re-telling of a favourite story, a magic show or a concert of their favourite songs. Noe these shows might now win any Oscar nominations, but the team work, leadership and confidence they develop as they work together to put on these shows and the positive reaction they receive from the audience is worth so much more to them.
Career Research – It's never too early for your child think about "What they want to be when they grow up". Setting up different dramatic play scenarios for your child to play in  provides an excellent introduction into the basics of running a shop, serving in a cafe, caring for others in a hospital or looking after soft toys at the vets.
Life Skills – Children learn through play so you can use play making playtime the ideal time to teach them some valuable life skills. Playing with a toy phone is an excellent time to teach your child how to make an emergency call. Setting the table is a dramatic play cafe can then be transferred to helping you set your own dinner table and then helping out with more kitchen chores as they get older.
Real Life Scenarios – Playing Doctors and Nurses is a useful role play activity to ease any concerns your child has about an upcoming trip to the hospital or use soft toys in a vet dramatic play centre to talk through their feelings about their favourite pet going in for an operation
"Children learn as they play. Most importantly, in play children learn how to learn." O. Fred Donaldson

Click here to receive our FREE eBook
Animal Imaginative Play
This post contains affiliate links for your convenience.
It feels like my daughter spends half of her day pretending to be an animal at the moment. She is always keen to get me involved as well. "Mummy pretend I'm a baby guinea pig and you are the mummy guinea pig." Being a mummy animal usually involves giving her lots of cuddles and pretend treats, so it's quite a nice way to spend a bit of time with her.
Getting involved in a pretend play activity with your child is an excellent encouragement for them, especially if your child is reluctant to play or feels shy about pretending to play another role.
Cardboard Box Pretend Play
The humble cardboard box is so useful, just think how many times we use them in our daily lives. We receive parcels inside of them, use them for storage and load our groceries into them. Once you have finished with them, you could just throw them out into the recycling bin or you could hang onto them and use them in a fun pretend play activity with your kids?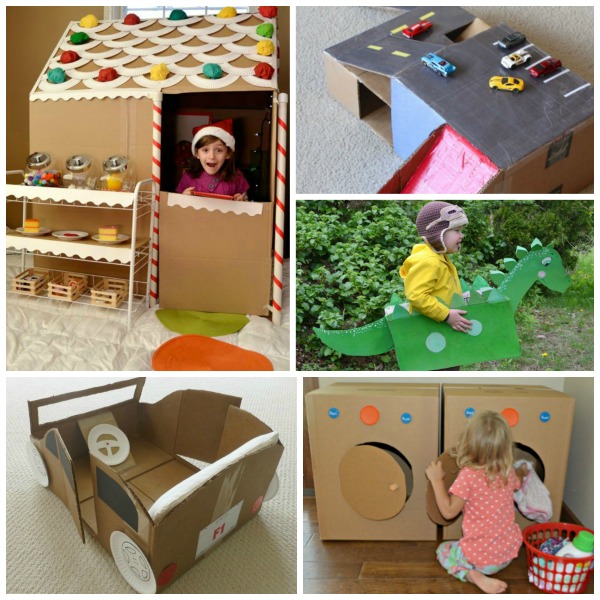 "The playing adult steps sideward into another reality; the playing child advances forward to new stages of mastery." Erik H. Erikson
Doctors and Vets Dramatic Play
Pretend Play is great way to gently introduce new places that you may need to visit together in real life. Does your child have a upcoming doctors appointment that they are feeling nervous about or is their beloved pet having to take trip to your local vet? Acting out the role of a doctor or a vet is a good way to show and talk to your child about what is going to happen.
"Play gives children a chance to practice what they are learning." Mr. Rogers
Dressing Up Box
Growing up I spent a lot of time at my grandparents house, whilst my parents were working. One of mine and my sisters favourtie games to play  there was "dressing up." My granny had the most amazing dressing up box full of her and my Granddad's old clothes and accessories. I remember this really big blue sunhat and my grannies scarves and shoes being personal favourites.
Yes you can buy lots of different dressing up outfits now down the shops, but what could be more fun than dressing up in your parents old clothes or even up-cycling them into something much more special.
Click here to receive our FREE eBook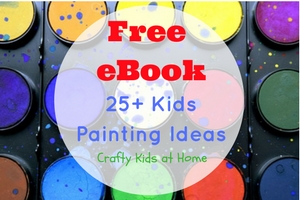 Outdoor Imaginative Play Activities
It is great to get kids playing outside as much as possible and there is so much potential for imaginative play outdoors. I was lucky enough to grow up on a farm and I loved to make dens around our and mud pies in our garden. If it's too wet to play outdoors then why not bring and outdoor theme indoors.
"We don't stop playing because we grow old; we grow old because we stop playing." George Bernard Shaw
On the Move
My kids love cars and can spend many a wet afternoon zooming them around the house pretending to be racing car drivers or cops and robbers. Our playroom currently had a masking tape road map over half of it as well which they use for one of their many car related play times.
Get your child's imagination moving with these ideas for pretend play activities using cars, trucks and diggers.
Play Food
I have lost count the number of pretend ice-creams I have "consumed" and how may orders I have placed in my kids all time favourite dramatic play setting – "Their Cafe" but it is a game I will never tire off (even though it does make me really hungry") as I know how much good it is doing them as they play. My middle some even has aspirations of becoming a chef now which I am sure is partly down to the number of hours he has spent cooking for me in his pretend kitchen.
Play food can be imaginary, made from recycled packaging, you could even sew your own or buy a cheap set online. I had aspirations of sewing a set of felt food for my kids, but after spending an hour sewing a fried egg I gave in and bought a cheap set (the fried egg has made a great pin cushion for me so it wasn't an hour totally wasted!). It has had so much use though, so it turned out to be a great investment.
"It is a happy talent to know how to play." Ralph Waldo Emerson
Playing Shop
Who doesn't remember playing shop when they were a kid? A childhood institution and one of the simplest imaginative play scenarios to set up. You can easily set up your own shop at home filled with empty packaging from your recycle bin and a toy till. Encourage your kids to take turns being customer and shop keeper as they play together. Playing shops is also a great way to introduce the concept of money and to practice using it before your kids are let loose in a shop alone once they are old enough.
Click here to receive our FREE eBook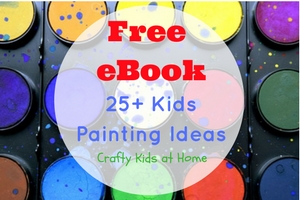 Playing with Puppets
Making your ow puppets putting on a puppet show is a great rainy day activity. Give your child as much freedom as possible to design and make their puppets and write and perform their own show. They might just surprise you with their creativity and imagination.
Telling Stories
My middle son comes up with the best stories. I wish I had just half of his imagination. He can sit down and write a tale or just tell a story with ease to his siblings as they play together. Encourage your children to tell stories with a small world play or make some Story Stones.
References
The Need for Pretend Play in Childhood Development, Psychology Today
The Importance of Pretend Play, Scholastic