All the inspiration you will need to host the perfect kids Farmyard birthday party.
I am delighted to be welcoming over Emma from Adventures of Adam to our birthday themed fortnight. Emma is sharing fun party game ideas for a Farm themed celebration. And I am definitely booking Adam's Nana to cater our next birthday party, just look at that amazing spread of food! Now over to Emma…
We are so excited to be involved in Crafty Kids at Home's birthday celebrations – Happy Birthday Crafty Kids at Home!
Ironically it was also Adam's birthday yesterday and he turned 3. I wanted to share how we celebrated his second birthday with a farmyard themed birthday party. Choosing a theme for Adam was easy. He loves farm animals and the party was at my parents house who are surrounded by cows.
Farmyard Birthday Party Games
No party is complete without a few party games. Being a farmyard themed birthday, our games centered around cows and sheep.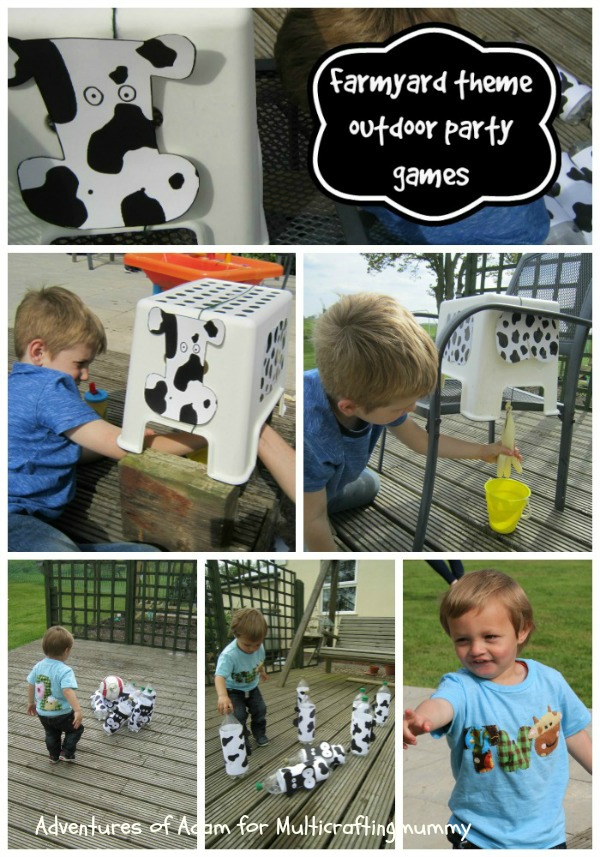 Using recycled plastic bottles I wrapped them in white paper, stuck on black cow spots and made a cows face from black card. We set the skittles up outside and the boys took it turns to roll a ball to see how many cows they could knock over.
Using cow print paper I turned our Ikea stool into a cow. We created cows udders by pouring diluted soya milk (Adam is milk intolerant) into disposable gloves and pricking each finger with a paper clip. The boys had to see who could milk their cow the quickest.
As with most parties it is easy to get carried away and plan too many things to fit into one afternoon. With Adam's party we ran out of time to complete two further activities. The resources had been made so we just had fun at a later date.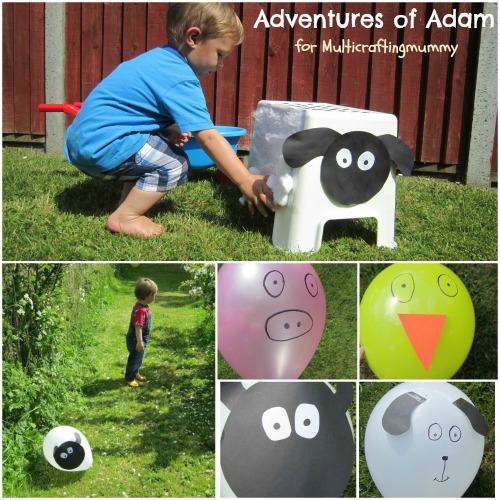 Using the same Ikea stool as above I attached contact paper to it so the sticky side was facing out. I pushed rows of cotton wool balls onto the contact paper to complete the sheep's woolly coat. Adam had to use his fine motor skills to remove the cotton wool.
The idea of the game was to herd the animal balloons into three different areas of the garden. We had pigs, chicks and sheep balloons – although the sheep balloons looked more like sheep dogs. The children had a wonderful time running around the garden attempting to catch the animal balloons before the wind took them away!
Farmyard Birthday Party Food

We went all out on Adam's birthday party food. Nana got creative and made a wonderful farmyard themed feast. We had hard boiled egg chicks, marshmallow sheep, a duck pond, a watermelon pig, pork pie pigs as well as pigs in mud. That is not all! There were also rabbit cupcakes, terracotta cupcakes, carrot cake cows and finally carrot cake tractors!
We all have fond memories of Adam's second birthday!
You can keep up-to-date with Emma on Facebook, Twitter, Pinterest and Instagram.