You don't have to leave your house to enjoy a picnic with your kids. Why not load up a tray with picnic snacks and head outside into your own garden and host a Backyard Teddy Bear's Picnic.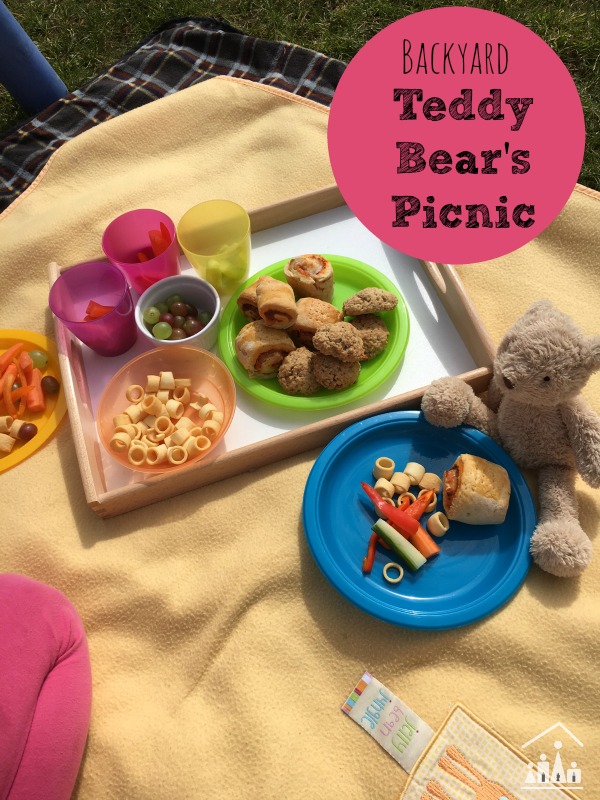 Due to the unpredictable nature of the Irish weather (there's a good reason we are known as the Emerald Isle!) when the sun does make an appearance we drop everything and head outdoors. The fresh air always makes my kids hungry, so bringing a picnic is as essential as our sunscreen.
Due to the unpredictable nature of Motherhood  (sickness, tiredness, cranky kids etc…) it's not always possible to go out somewhere, but we don't let that spoil our fun, we just pack up our picnic and take it out into our back garden.
The added benefit of this is that when the weather does take a turn for the worse,  we don't have far to dash for cover.

Planning your Backyard Teddy Bear's Picnic
Whilst you are busy preparing the picnic snacks (more on that later), send your kids off to find their favourite teddies to bring along on the picnic. Get them to dig out some blankets and towels as well, if they can reach them.
Then send them outside to find the perfect picnic spot whilst you load up the picnic snacks, plates and drinks into a tray to bring outdoors with you.

Picnic Snacks.
Keep it simple and you can't go wrong. Here are some of our favourites:
Fill up a jug of water or juice (picnics on a sunny day are thirsty work) and you are ready to picnic.
Backyard Teddy Bear's Picnic Pretend Play
Inviting your child to bring along their favourite teddy is a great way to prompt an outdoor pretend play session. My daughter had lots of fun feeding her favourite elephant lots of food and then played a few games with him on the picnic mat.
A picnic for us would then not be complete without a bottle of bubbles to blow and have fun running and chasing around popping them. We only have a small garden so our options for play after our picnics are limited, but we do try to make the most of our outdoor space. We are always looking for new ideas to try and this list is full of Backyard Play inspiration on a budget.
For more Outdoor Fun check out these ideas:
Backyard Rules Free Printable Art | Sunny Day Family
Five Ways to Use Your Sprinkler | Nemcsok Farms
Backyard Fairy Garden Storytelling |Growing Book by Book