To say that we love bubble wrap over here at Crafty Kids at Home would probably be an understatement, OBSESSED with bubble wrap is probably a more accurate description! Ever since we first used it to make these Bubble Wrap Jellyfish back in 2014, it has been a regular feature on our arts and crafts activity schedule. We have painted with it, on it, squished it, up-cycled it, in fact we came up with a new way to use bubble wrap every month this year. Here is a look back at our year of Bubble Wrap Activities for Kids.
Our year of Bubble Wrap Activities for Kids:
Spring Bubble Wrap Activities for Kids
This post contains affiliate links for your convenience
In January we shared Freddie's winning entry from the school "Recycled Christmas Tree Ornament" competition – A Bubble Wrap Snow globe.
February took us on a trip over to Red Ted Art with our quirky Bubble Wrap Salt Dough Heart Decorations.
For St Patrick's Day in March we made some Bubble Wrap Salt Dough Shamrocks.
In the run up to Easter we got busy with some Bubble Wrap Spring Lambs.
Summer Bubble Wrap Activities for Kids
May saw us recreate Cherry Blossom Trees with Bubble Wrap Stamps and torn paper.
In June we made our very own Pet Tortoises from bubble wrap.
July saw us host our first giveaway after sharing our Miss Rumphius Inspired Bubble Wrap Lupines.
Our sights were on Back to School in August when we used bubble wrap to make some Back to School Bookmarks.
Autumn/Winter Bubble Wrap Activities for Kids
Rhyme Time was all about The Wheels on the Bus  in September, so we made one from Bubble Wrap.
We celebrated the arrival of Autumn in October with Bubble Wrap Autumn Trees for Pretend Play.
Remember, Remember the 5th of November with our a Bubble Wrap Bonfire Painting.
Dec the halls with some Bubble Wrap Holly Wreaths in December.
Have you discovered the full potential of bubble wrap in arts and crafts activities with your kids?
Keep up-to-date with all of our new Bubble Wrap Activities for Kids next year – Sign up here to receive our newsletter.
If you love STEAM Activities then you are going to LOVE this book: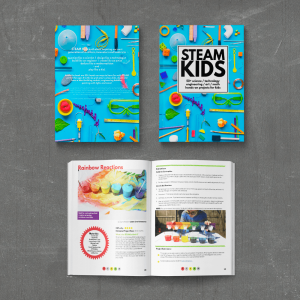 Available as an E-BOOK or PRINT VERSION.