We don't believe in fancy colour schemes for our Christmas Tree or perfectly symmetrical baubles. We prefer the "Family Look".  A Christmas Tree haphazardly filled with memories of Christmases present and past. 
Sitting down to make Christmas Baubles to hang on our Christmas Tree is a festive staple in our house. As is bringing down the box crammed with previous year's efforts from school and home to hang alongside them. Do you have a box filled with memories ready to bring out this Christmas? I bet my mum still has a few of my early efforts!
How to make Bubble Wrap Baubles for your Christmas Tree
This post contains affiliate links for your convenience.
Supplies
Bubble Wrap
Cardboard
Paper
Scissors
Ahead of the Activity 
I cut out matching circles of cardboard, red paper and bubble wrap before we sat down to make our Christmas baubles.
I also cut out Christmas Tree shapes from green and yellow felt. If you wanted you could cut out Stockings, Snowmen, Elves, Reindeer or whatever festive scene your child wants instead for their own bauble. 
We set off on our festive crafty adventure gluing together the circles of cardboard and red paper.
This left us with the perfect canvas ready to add lots (and lots) of glitter onto and then our  felt Christmas tree pieces. We added the year with a black marker to the Christmas tree pot, as a reminder for years to come.
It was the time to load on the Christmas bling (as many sticky gems as they could manage) before covering them over with thee circle of bubble wrap to give a cook snow globe effect.
We are delighted to be sharing this Christmas craft idea as part of Crafty Mama in Me's Kid Made Christmas Ornament Blog Hop.
Are you looking for inspiration for your Christmas Cards this year?
If you love STEAM Activities then you are going to LOVE this book: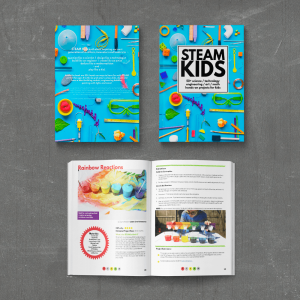 Available as an E-BOOK or PRINT VERSION.