Add a fun new twist to a classic St Patrick's Day Kids Craft. Make a Bubble Wrap Shamrock Man.
It's time to kiss goodbye to our Valentine's Hearts and say hello to some Shamrocks, Leprechauns and Rainbows. St Patrick's Day wasn't a festival we paid much attention too, until me moved our family over to Ireland 7 years ago. Now our local parade is  a Spring highlight. As is decorating our home in the run up to St Patrick's Day.
All three of my kids have made Silly Shamrock Men in preschool over the years, but we haven't made any ourselves at home until this year. To add a fun twist to our Shamrock Men, we have used our favourite junk material Bubble Wrap. This really helped bring them to life.
If your kids are still feeling creative after making their Shamrock Man, why not try this awesome Rainbow Watercolor Raised Salt Paint Shamrock  or if they are feeling hungry then I'm sure one of these Pot O'Gold St Patrick's Day Cookie Cups would go down a treat. 
Bubble Wrap Shamrock Man
This post contains affiliate links for you convenience
Supplies
Click here to Subscribe and receive our FREE eBook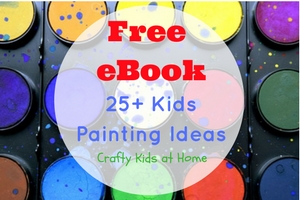 Ahead of the Activity
To save time I printed bubble wrap into green paint and stamped it over  a sheet of white paper. The activity was ready to go then after school.
I have been doing lots of activities using scissors with my daughter to improve her cutting skills. It is really paying dividends now and she had no trouble at all cutting out her Shamrock shaped body.
To create our Shamrock Man's arms and legs, Bella cut out long strips of green paper and folded them back and forth in a concertina fashion, to give them added bounce.
She glued them onto the back of his bubble wrap body, before securing the shamrock cutouts in place for his hands and feet.
He then just needed a few finishing flourishes. A pair of googly eyes, a nice smile, a couple of green feathers and a few heart shaped buttons to make another shamrock on his chest.
Next on our decorating list is to make one of these awesome DIY Shamrock Wreaths. 
Happy St Patrick's Day
Will you head to a Parade this year or maybe you are marching in one? We would love to hear about it or even see some photos over on our Facebook Page. 
If you are looking to carry on the fun of St Patrick's Day when you get home, why not set up this Pot of Gold Scavenger Hunt by Sunny Day Family or this Leprechaun Obstacle Course by Wunder-Mom.
You can find all of our St Patrick's Day Activities here:
Click here to subscribe and receive our FREE eBook