Do you like to try new Christmas Cookie Recipes? We love any excuse to bake cookies. There are so many different kinds of holiday cookies to try, or perhaps you have a special family recipe you bake each year?
10 Delicious Christmas Cookie Recipes
This post contains affiliate links for your convenience. 
Here are ten delicious and Christmas Cookie ideas for you to try out:
We are baking and sending these fun Christmas Cookie Decorating Kits this year.
Do you know what Santa's Favorite Cookies are? Bake him some of these yummy brown sugar pudding cookies and he is sure to leave you something extra special underneath your Christmas tree.
These Santa Swirl Cookies are pretty enough not to want to eat, but I'm sure they taste delicious as well.
Try these Peppermint Snowball Cookies for a fun variation on a classic Christmas snowball cookie.
Make Holiday Thin Mints for adults to enjoy after a cup of coffee.
How sweet are these Reindeer Sugar Cookies and Melting Snowman cookies? They look easy to make too and will be a big hit with the kids!
You can't have Christmas without watching The Grinch movie, make these Grinch cookies to munch on whilst watching.
And don't forget about Classic Gingerbread Cookies or buttery Spritz Cookies
A whole lot of scrumptious and festive cookie ideas! Which recipe(s) would you like to bake this year?

If you love STEAM Activities then you are going to LOVE this book: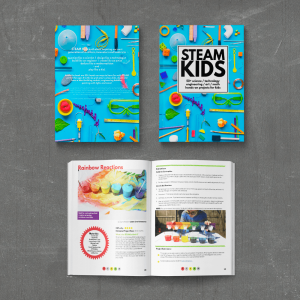 Available as an E-BOOK or PRINT VERSION.