From your smallest to your tallest, painting is the perfect activity to do with all of your kids. Over here at Crafty Kids at Home, we love to get our paints out. We all regularly sit down together to complete a themed painting project or just see where our brush strokes take us. Here are a few of our favourite easy painting projects.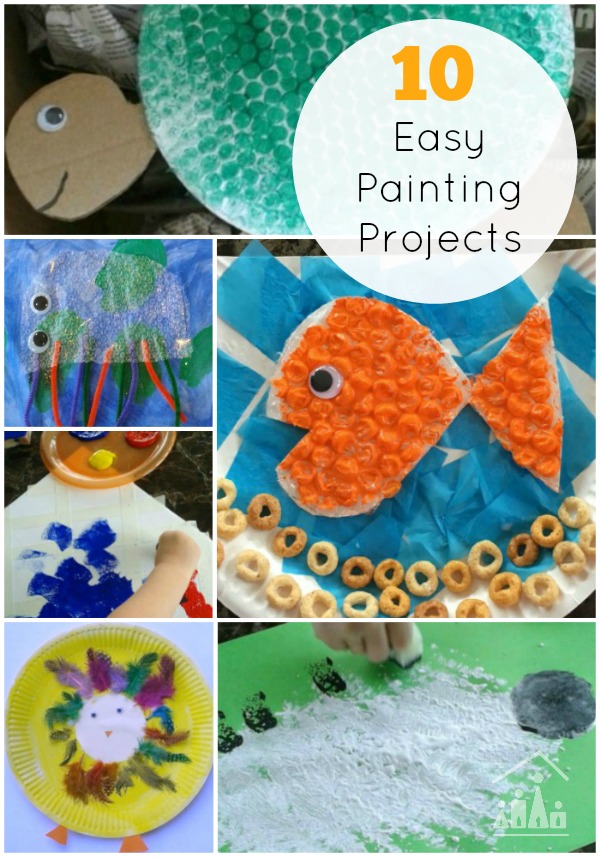 Benefits of Painting with Kids
Painting is such an easy and versatile activity to do with your kids. It is simple to set up and there are so many different techniques to try out and different painting tools to use. We love to paint with brushes, sponges, q-tips, cars, marbles, dinosaurs, hands, feet, yarn and the list goes on and on.
We do a lot of easy painting projects at home. And it is great to know that whilst they are painting, my kids are learning and developing in so many areas as well.
They are exploring their own creativity, as they use and experiment with their own ideas as they paint.
Fine motor skills are strengthened, as they grip and manipulate different painting tools.
Building self esteem. They take pride in their work and gain instant recognition for their efforts (there is no right or wrong way to paint).
Developing strong sibling bonds, helping each other and praising each others work.
Painting is a  great stress reliever. You are allowed to brush away your frustrations as you paint or even use your painting as a means to express your inner emotions.
But most of all it is FUN!
10 Easy Painting Projects for Kids of all Ages
Sponge Painting is super simple to set up. I always make sure we have a packet of cheap kitchen sponges in our making supplies. Our most popular sponge painting activity to date has been our Baa Baa Sponge Sheep activity.
We experimented with painting on bubble wrap to create this Esio Trot inspired Tortoise Craft.
My middle son comes up with some of our best ideas. These Bubble Wrap Jellyfish came from his own imagination (and is still our most popular kids activity to do date).
We added a new twist to our favourite sponge painting activity, when we tried Tape Resist Sponge Painting.
Paper Plate Pets are so much easier to look after than the real thing.
Painting can be used to teach new concepts in a fun way. We did this in our Explore Symmetry with Art activity.
Who can resist Splat Painting! Be warned – This did get very, very messy.
We always have a stack of paper plates to hand. We used some to create these colourful Crazy Chicks.
The latest addition our growing Painted Bubble Wrap collection is our cute Bubble Wrap Goldfish
The Wheels on the Bus really do go round and round in our final painting activity of this round up.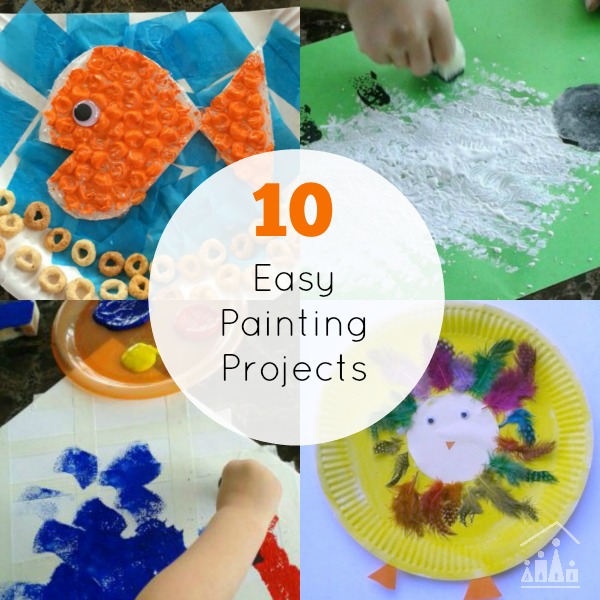 For more fun arts and crafts ideas make sure to follow us over on Pinterest.