Creating a magical fairy garden with your kids is a lovely way to make memories together that will last a lifetime. I still remember making them with my granny when I was a child and now I love to make them with my own children during the summer.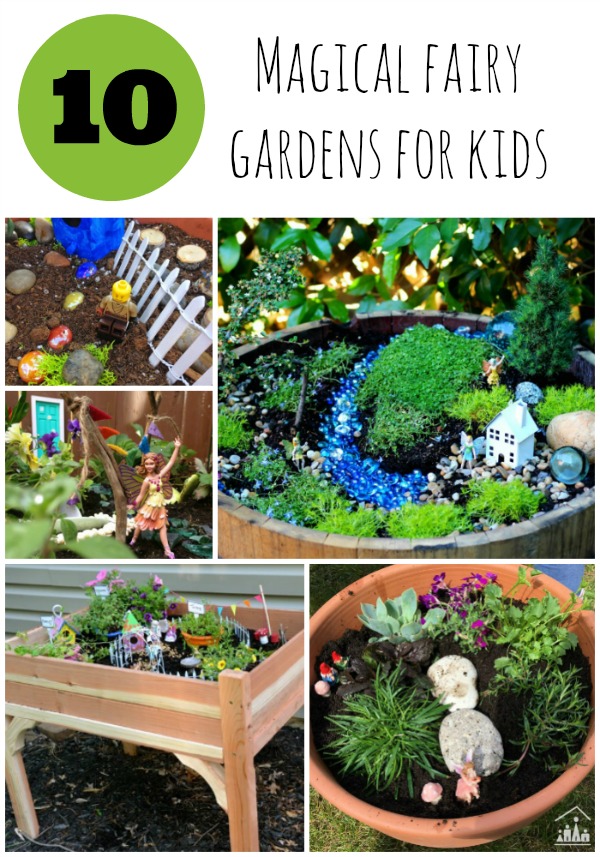 My sons' in particular feel a strong connection to fairies and are forever leaving their own "Tooth Fairies"  little notes filled with questions along with their milk teeth. Their faces are a picture when they read their replies the next morning and they treasure them as much as the shiny coin she leaves them (well almost).
I toy between feeling sad that I am playing this game with them and feeling happy that they still live in a world of make believe. They will grow up all too soon and experience the harsh realities of life, so who am I to deny this innocent little pleasure. I am having to get more creative each time though!
They have both made their very own fairy doors for their bedrooms now (with no help or prompting from me) and they both love to create mini fairy gardens outside in the garden with me. There little sister hasn't lost any teeth yet, so fairies don't have quite the same appeal to her yet, but she does enjoy making mini gardens with us.
10 Magical Fairy Gardens for Kids
This post contains affiliate links for your convenience.
To help inspire you to create your very own magical fairy garden this summer we are sharing 10 awesome ideas from ourselves and some of our favourites from around the blogosphere. Which one is your favourite?
Rhythms of Play Start your own Fairy Garden
Backyard Fairy Garden Storytelling from Growing Book by Book
How to make a Miniature Fairy Garden from Crafty Kids at Home
Mary Mary Miniature Fairy Garden from Crafty Kids at Home
DIY Fairy Garden with Kids from Tinkerlab
Let's Build a Fairy Garden Table from Inner Child Fun
Make your own Fairy Houses and Decorations from Happiness is Home-made
A very Magical DIY Fairy Garden for Kids from Small Potatoes
Fairy Garden Play Dough from Fantastic Fun and Learning
Make an Easy Lego Fairy Garden from Toddler Approved
For more Top 10 lists filled with ideas for fun activities with flowers check out:
Top 10 Flower Sensory Play Ideas from Sugar, Spice & Glitter
Top 10 Flower Activities for Preschoolers from Living Life and Learning
Top 10 Flower Wreaths from Witty Hoots
Top 10 Flower Art Projects for Kids from Craftulate
Top 10 Flowers for Summer Color by Our Good Life
Top 10 Flower Recycle Crafts by Teach me Mommy
Top 10 Flower Fine Motor Skills Activities from Happy Brown House
Top 10 Flower Petal Art Ideas from Our Whimsical Days
Top 10 Flower Sensory Bins from Adventures of Adam
Top 10 Flower Painting Ideas from Messy Little Monster
Top 10 Sunflower Activities for Preschool by Preschool Powol Packets
Top 10 Flower and Garden Themed Snacks from Something 2 Offer
Top 10 Flower Math Activities from Play & Learn Every Day
Top 10 Book-Inspired Flower Crafts for Kids from Playground Parkbench
Top 10 Flower Books for Kids from Sunny Day Family
Top 10 Flower Suncatchers from Rhythms of Play
Top 10 Ways to Study Flowers by The Usual Mayhem
Top 10 Flower Projects to Eat Wear Decorate or Gift by Words 'n' Needles

For even more outdoor activities to enjoy with your kids this Summer, check out the activities linked up in our recent blog hop. Click on the image below to take you over to the full list.