Keep school holidays boredom at bay, with this quick set up Fine Motor Foil Painting activity for kids of all ages to enjoy.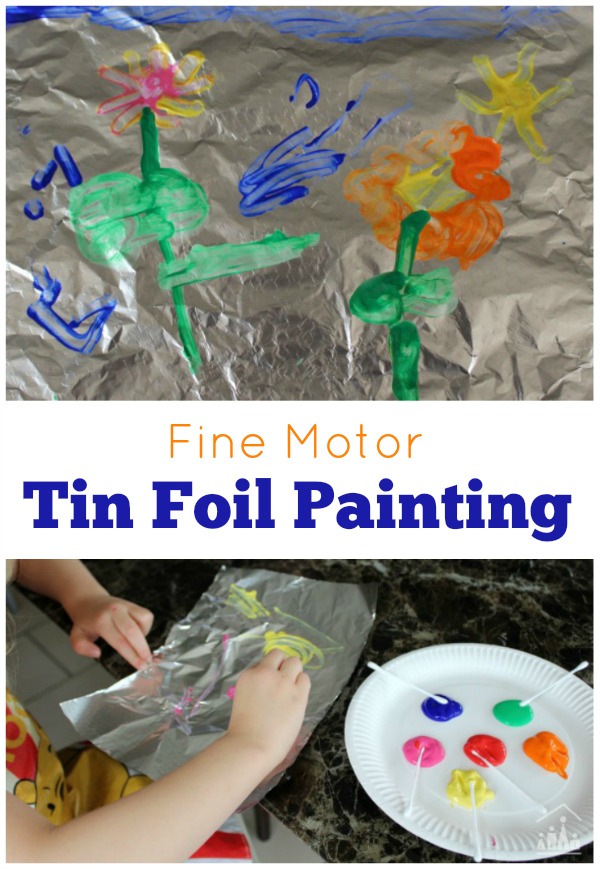 We are now settled into our relaxed summer schedule, as we celebrate the end of week 3 of our school holidays. We've been slowing down our days and going outside for lots of fresh air and fun. Once back inside, I have been keeping our activities quick and simple to set up. (To match the present pace of our days.)
Simple Painting Projects like our Tape Resist Sponge Painting or Dinosaur Painting have been popular. As was this fun tin foil painting art project.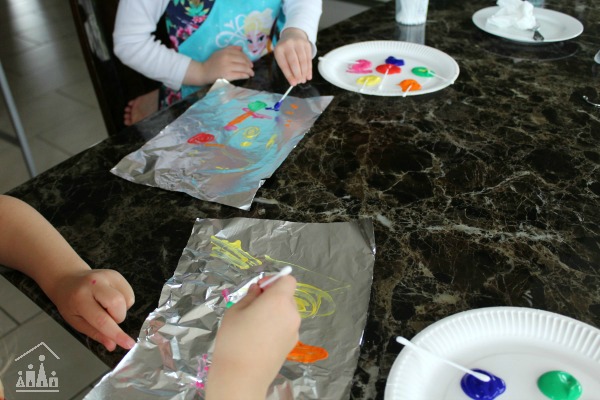 Fine Motor Foil Painting
This post contains affiliate links for your convenience and at not extra cost to you.
We love to explore different textures and materials when we are painting. We recently used pastels for the first time to create our very own Kandinsky inspired masterpieces.
This week I set up a new Painting activity for Bella and her friend to enjoy. I cut out sheets of tin foil and loaded up paper plates with different coloured paint. Then instead of brushes; I laid out cotton buds. Q-tips as they are also known, are a great fine motor tool to strengthen your child's pincer grip.
Using a different painting tool is also a great way to ignite your child's interest in a new project and to get their creative juices flowing.

I sat down with the girls to do this activity (I even had a go myself). It was a lovely session with them both. We chatted together about our paintings and took inspiration from each other as we created.
When we eventually ran out of tin foil (it's back on the shopping list!). We carried on our painting session with sheets of bubble wrap. We had great fun popping a few bubbles as we went along as well (why is is impossible to resist doing this with bubble wrap?)