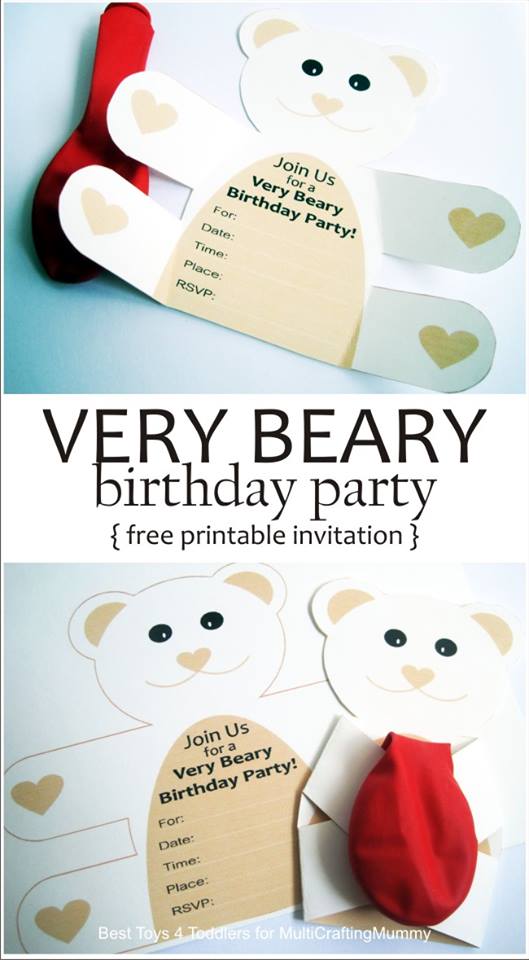 Coming along to our birthday party today is Mihaela from Best Toys for Toddlers. Mihaela kindly designed the invitations for my daughter's recent Teddy Bear themed birthday party. We would like to share them with you now, as a little thank you for coming to our party this week. 
PrintableTeddy Bear Birthday Party Invitations
Does your child love Teddy Bears? Teddy Bear party theme is awesome for babies, toddlers and preschoolers alike! It's gender neutral and can be used both for little girls and little boys.
Today we would like to share how to create very cute Teddy Bear Party Invitations to send out to little friends and ask them to join our party. Plus, we added a fun detail every child loves!
You will need to download and print our free printable Teddy Bear Party Invitation template. We have 2 invitations on each page to save paper. You can print as many as you need.
After you have print and cut out your Teddy Bear Party Invitations, fill in the details for your child – child's name, and when and where is party taken place, along with your phone number in case someone has to decline invitation.
When you have filled in an Invitation, next step is to fold hands and legs of a little teddy bear, as shown on the picture.
Now, take a balloon! We'll turn it into a Teddy Bear tummy! Plus, it will be a fun little gift to send out with our invitation! Add a little piece of tape to a balloon and glue it on top of the folded hands and legs. Top of the balloon should be hidden underneath the hands and legs. You can see in the picture how our Very Beary Birthday Party Invitation look when finished.
Another thing you can do to spice up things: Ask kids to bring their own teddy bears (or favorite plus animals) and throw a little
Teddy Bear Race
!
Hope you will have an amazing party with your kids!
Mihaela runs Best Toys 4 Toddlers blog and loves to come up with new ideas how to use old toys her 2 daughters keep leaving on the floor to slip over. Right now she's thinking how to get her 7 year old to make toys for 2 year old as an idea to bring them closer together. In mean time, you can find her on Facebook, Twitter and Pinterest sharing playful learning ideas for toddlers and preschoolers.
This post contains affiliate links for your convenience


You might also like: