Are you looking for a fun painting idea that is quick to set up and easy to do? Our Pointillism Art Project ticks all the boxes and will keep your kids busy for ages.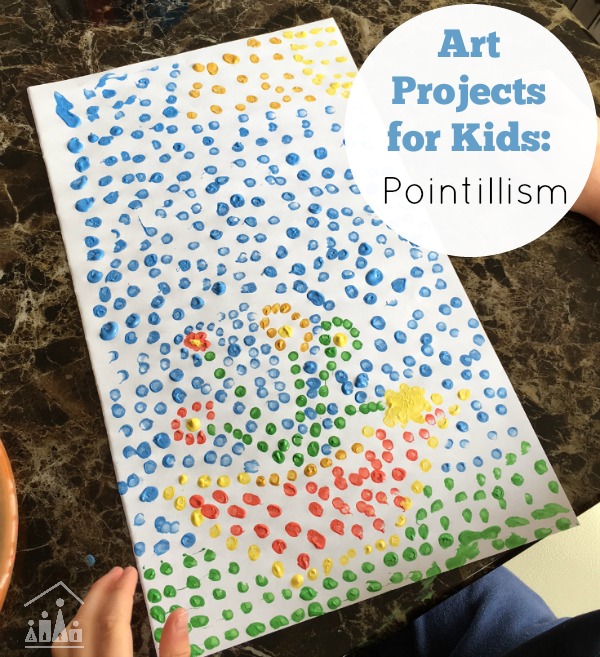 My kids call then dot paintings, Georges Seurat and Paul Signac named this painting technique Pointillism back in 1866.
This fun painting idea needs just a few simple supplies to get your kids busy creating their own dottty masterpieces.
Pointillism:  is a technique of painting in which small, distinct dots of color are applied in patterns to form an image.
Exploring Pointillism: A Fun Painting Idea for Kids
This post contains affiliate links for your convenience and at no extra cost to you.
Supplies
We love to explore and try out fun new ways to paint during our arts and crafts sessions at home.
Previously we have enjoyed Painting with Dinosaurs, Painting on Tin Foil and we have added our own twist onto a Tape Resist Art Project.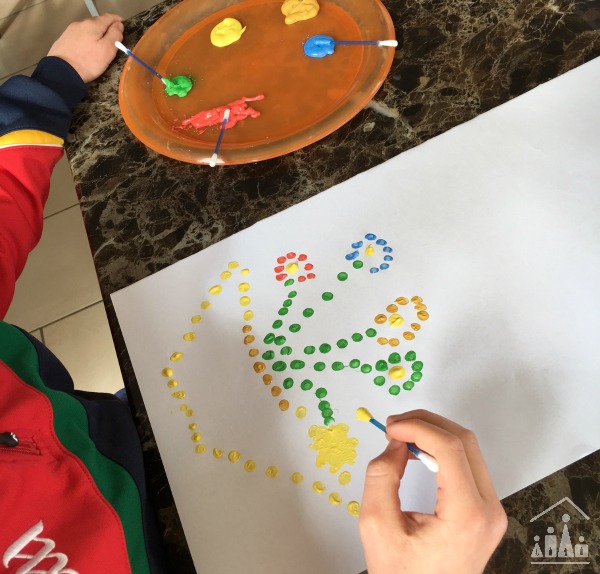 Painting dot pictures with q-tips is an ideal art project for siblings to enjoy doing together. However, on this occasion I enjoyed some one on one time with my eldest son Liam, 8.
Anything goes when you are dot painting. You can create patterns, make shapes or design your own pictures. My son decided that he wanted to paint a vase of flowers.
Deep in concentration, Liam applied dot after dot of different coloured paints with his little q-tip paint brushes. Using q-tips in place of paint brushes is a great way to work on strengthening and developing strong fine motor skills, which are essential for many other areas of your child's life. 
Determined to fill the whole canvas with his painting, he diligently worked away until it was fully covered in colourful little dots of paint.
He was very pleased with his finished work of art. What pictures will you create?
More Fun Painting Ideas: