How to make a Rainbow Cake
When I was growing up my mum would always bake us home-made birthday
cakes. My favourite was a "Fairy House Cake" she made and decorated
with trifle finger sponges for the roof and biscuits and sweets for the windows
and doors. She also became famous for her "Hedgehog Cake" which my sister had
several years on the trot. I have happily carried this tradition on with each
of my own three children and I have managed to bake them all home-made birthday cakes as well every year so far. It's become quite an event now, going
through all of my baking books and browsing through Pinterest for ideas and
inspiration, in the run up to each of their birthdays.
My son Liam turned 7 recently and he requested a "
Rainbow
Cake
". He has a real fascination with all things rainbow at the moment.
I think it might be something to do with the
lure of all of the treasure to be found at the end of them. Living by the sea
we are lucky enough to see rainbows on a fairly regular basis and we've spent
many a happy hour digging down on the beach for "buried treasure" left behind
by rainbows.
I encourage my kids to have as much input into their cakes
as possible, well as much as my skill levels can handle. Liam was full of ideas
on how he wanted his rainbow to look. He requested a sponge cake with a rainbow
running over the top of it. He wanted the rainbow to be made out of skittles,
along with little marshmallow clouds, oh and maybe some chocolate on their
somewhere as well!
How to make a Rainbow Cake
The cake was for Liam's birthday party with his school
friends a couple of days ahead of the actual day. The party was on the Saturday
afternoon, so I baked the sponges on the Friday afternoon and then decorated
the cake on Saturday morning. I used a basic
Victoria Sandwich recipe
for the base of the cake. I made 1.5 times the quantity, as
I wanted to have three layers of sponge. I divided the mixture into three and I
added in a few drops of different coloured food colouring to each before baking
them in the oven. I then allowed them to fully cool down before assembling the
cake and adding the icing.
How to decorate a Rainbow Cake
I sandwiched the layers together with some raspberry jam.
Then I spread
butter icing
coloured with a few drop of blue food colouring all over the cake, trying to get this spread as evenly as I could
across the top. I used a large palette knife to achieve this.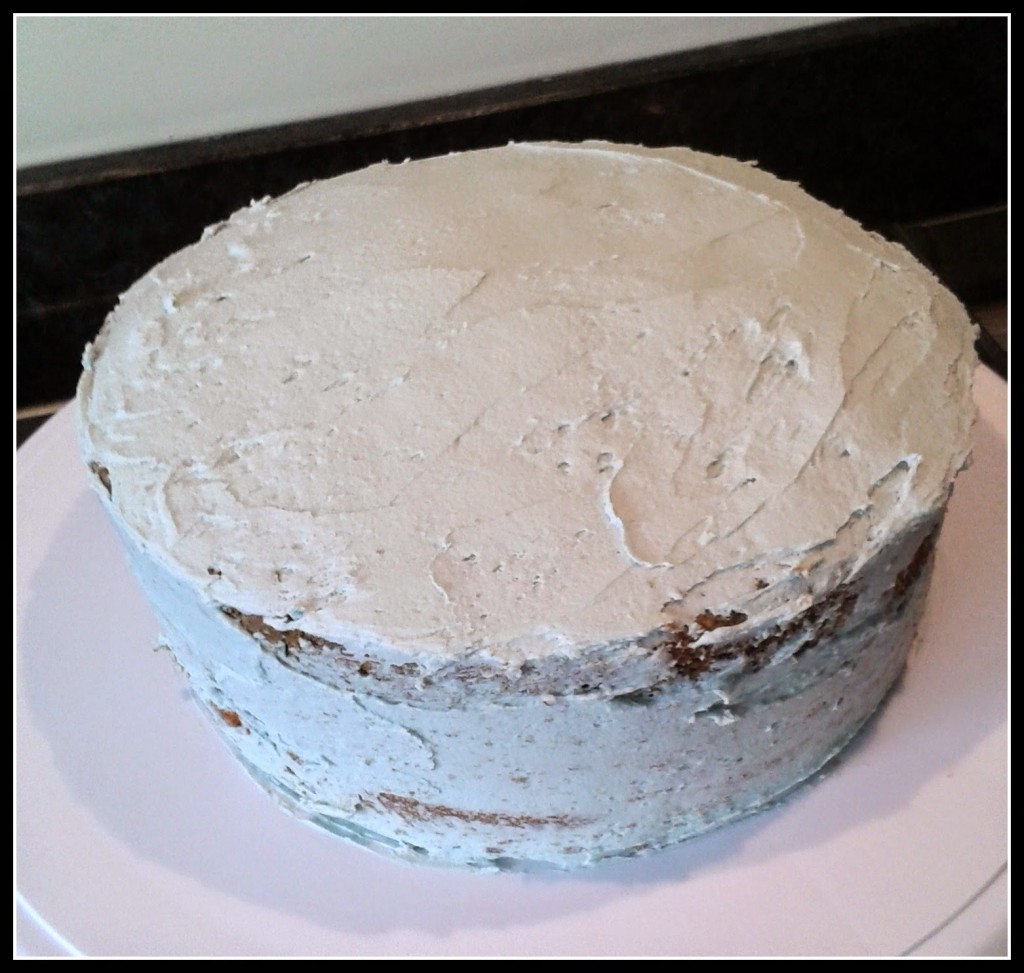 I wasn't as
careful with the sides of the cake though, as I was going to be covering this
up with some chocolate fingers, which I did next.
I did have a bit of panic
here, as I hadn't bought enough to go around the whole cake, but a hasty trip
to the corner thankfully sorted this out.
I then set on creating the rainbow with the skittles. I had
bought 6 large bags of skittles to ensure that I had enough of each colour and
of course this turned out to be far too many. This wasn't a problem though, as
it meant I could eat a few along the way to keep my energy levels up.
I also
made a
party game
as well out of some of them. I added 174 skittles to
a jar and then asked the children at the party to guess how many were in the
jar and then the nearest guess won the jar. I also made a
Raindow I-spy bottle
for the party, after being inspired by this post from
youclevermonkey
, which
was posted to my
Facebook page
recently.
Rainbow I-spy bottle and "Guess how many sweets in the Jar" party games
I then added on some mini marshmallows for the clouds and
cut out shapes using green ready-made fondant icing to spell out Liam and a
number 7. I took candles along to the party as well to add when we got there.
Do you like to bake your children's birthday cakes?