It's pouring with rain and your preschooler is getting bored. This can soon be fixed when you set up our Indoor Rain Painting Painting activity.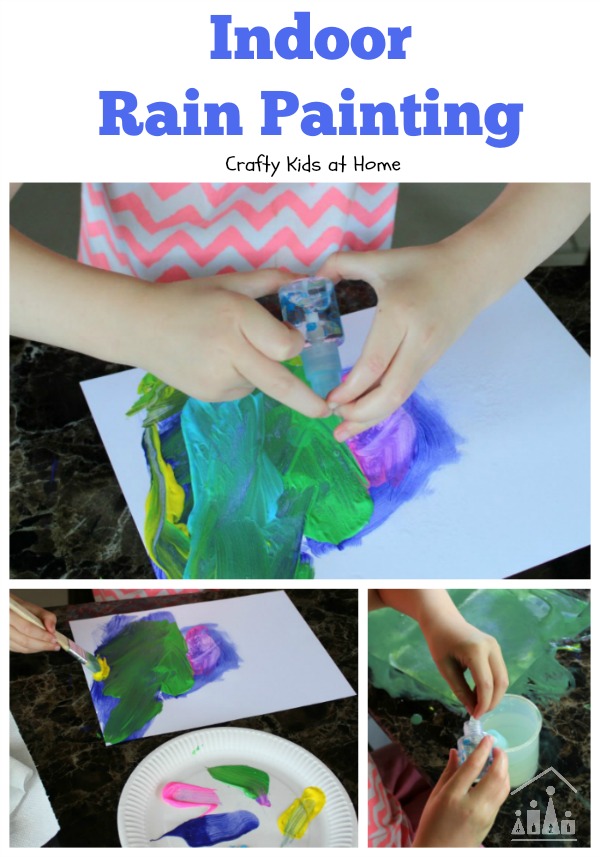 Painting is the perfect activity to set up for your kids on a rainy day. It's quick to put together and is suitable for kids of all ages to participate. We regularly bring out our painting box (there's a reason Ireland is so green!) over here at Crafty Kids at Home.
Our favourite painting projects so far include Tape Resist Sponge Painting, Dinosaur Painting and Tin Foil Process Art.
Indoor Rain Painting for Preschoolers
This post contains affiliate links for your convenience and at no extra cost to you.
Supplies
Thick paper or thin cardboard
Paint
Paint brushes
Spray bottles
Water
The rain was hammering against our windows and my daughter was getting restless. She was in need of a change of activity and quickly. Her big brothers were locked into a Pokemon Battle, so I decided it was time to get the paints out just for her to use. Taking inspiration from what was happening outdoors, I decided to add some "rain" to an indoor art project.
Bella went off and selected a few different coloured bottles of paint and some brushes from the cupboard, whilst I poured water into a little spray bottle and dug out some thin white card.
Regular paper would not be suitable for this activity due to the levels of water involved.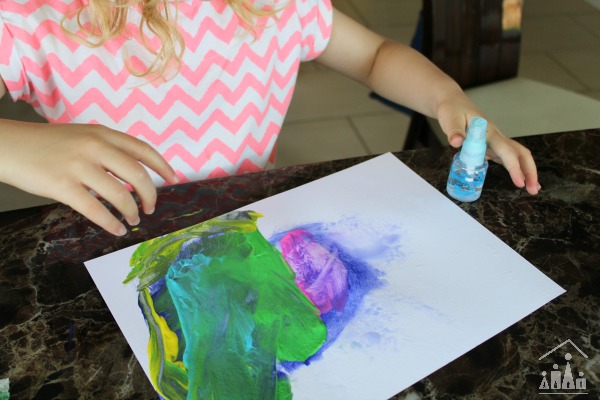 On sitting down to do the activity and Bella immediately loaded up her paintbrush with paint and brushed it quickly over her canvas using generous strokes. She then repeated the process until she has worked her way through each of the different colours of paint.
Next came the really fun part.
I handed over the  spray bottle and asked my daughter to make it rain all over her painting. She eagerly accepted her challenge and liberally sprayed water all over her picture.
We watched on as the colours began to move around and merge together, as she added more and more water over her painting.
Then taking the activity into her own hands, she opened up her spray bottle and poured the remaining drops of water over her work.
Not content with that. She then plunged her empty spray bottle into her pot of water (which was supposed to be for cleaning her paintbrushes) and proceeded to pour more water over her painting before getting her hand stuck right into it as well.
It was quite a clean up operation afterwards, but it was worth it seeing how much fun she was having using her own imagination as the activity went on.


This activity is just one of 200+ Painting Ideas for Children listed over on Emma Owl's Bug Paint-a-thon.
You might also like:

More Indoor Activities for Kids: