Tinkering with a tray of different craft supplies is a lovely way to wind down after school. 
The Easter Holidays are fast approaching (which is a mix of good and bad). We are all feeling extra tired now after-school in particular  (some more than others!) and the mere thought of homework is enough to send us all into a meltdown. Luckily the teachers are easing up a bit, so we have had more time to relax and re-charge with some simple arts and crafts activities.
Setting up a Invitation to make a Spring Collage 
Supplies
Coloured Paper
Tissue Paper
Cupcake Liners
Pipe Cleaners
Lolly Sticks
Foam Flower Shapes
Pom Poms
Cotton Balls
Googly Eyes
Don't feel constrained by this list of supplies, see what you have to hand in your own craft supplies. Anything goes as long as it's reminiscent of the bright colours of Spring. 
We love doing this kind of activity. The kids are free to use their own imaginations and creativity freely and you can sit back and enjoy watching and hearing their masterpieces come to life.
I'm going to make a Secret Garden with these Pipe-cleaners

I'm giving my caterpillar a mohawk!
We set to work on our Spring collages around the kitchen table together. Sitting down to make arts and crafts together can be a great bonding exercise for kids (or it can end up in a big fight over who gets the last googly eye!). Don't let the odd spat put you off though, that's just siblings for you. The more you do it, the more you will enjoy the results.
Do your kids love to paint? Download our FREE eBook 25+ Kids Painting Ideas now.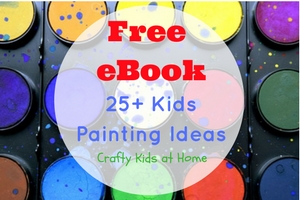 Our Spring collage making session passed thankfully without too many incidents and each of my kids completed a couple of pictures for hanging up with our Spring display.
Flowers were a popular feature in our collages, along with caterpillars and random placement of googly eyes to make silly faces.
If your child enjoys this activity then they might also enjoy our Invitation to make a Spring Chick or our Invitation to Cut Fresh Flowers.
Don't forget to download your copy of our FREE eBook 25+ Kids Painting Ideas.