Baking with Toddlers: Dairy Free Scones
We are starting to adapt to life with a cow's milk intolerance in the family. Freddie was diagnosed 2 months ago now and we are having fun adapting our favourite recipes to ensure that he doesn't miss out on any of the "good stuff". We have had success already with our Dairy Free Chocolate Cookies and now as part of Study at Home Mama's Kids in the Kitchen Series we are sharing our tried and tested Diary Free Scones recipe. I made this batch with my 3 year old daughter Bella.
Follow our Dairy Free Cooking board on Pinterest for lots more ideas to suit your dairy free needs.
Dairy Free Scones – Ingredients
450g self-raising flour
75g of dairy free spread
50g caster sugar
2 rounded teaspoons of baking powder
2 large eggs
About 225ml almond milk
Handful of berries (optional)
Pre-heat oven to 220C/Gas Mark 7
We made these scones using an electric mixer but this is not essential to the success of the bake.
How to make: Dairy Free Scones
It's a good idea to get all of the ingredients measured out before-hand when baking with a toddler. They are notoriously impatient and will want to get stuck straight into the action of tipping and mixing the ingredients together. They don't have time for the boring bit!
Bella's first tasks were to tip the flour, sugar, baking powder and dairy free spread into the electric mixing bowl. I then took charge of setting the machine off to blitz this together until the mixture resembled breadcrumbs. She was eager to keep an eye of the mixture and I did let her take a peek, but only under strict supervision.
I then decided it was time to give Bella her first go at cracking the eggs. We did this together into a cup rather than straight into the mix, so I could fish out any stray pieces of shell. She actually did a better job than me though and we didn't have any shell to remove. She was very proud of herself (but also very keen to wipe the sticky egg from her hands!).
Shen then whisked the eggs with a fork before pouring them into the bowl and then threw in the berries as well.
I very gradually added in the milk on a low mix until a ball of dough formed.
Bella then took charge of the rolling pin and with a little help we managed to get it to the desired 1-2cm thickness.
She then had fun cutting out the dairy free scones and popping them onto a baking tray which we had greased with a little of the dairy free spread before we started.
Finally Bella gave them a little brush with almond milk and then they were all ready for popping into the oven.
We used a small scone cutter, so our scones were ready in around 12 mins. A good test to see if they are cooked is to lift one of the scones up and see if it is nice and golden brown underneath.
We then left them to cool for a few minutes before covering them with dairy free spread and lots and lots of jam and sat down to eat them with her big brothers.
For those of you who are able to enjoy baking with dairy products, then please pop over and see the series hosts recipe for Easy Berry Scones. I'll be whipping up some of these for the school mums when the kids are back to school!
Our first co-authored Kid's Activities book is now available to buy!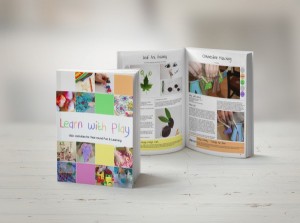 Learn with Play at Home: 150+ Activities for Year -round Fun and Learning is available as an ebook, print book and kindle.