Pack up a picnic and head down to the park on February 8th for National Kite Flying Day, don't forget to bring your kite! It's been a bit too windy for kite flying over here in Ireland so far this year, so my kids have had to be content with making a Kite Collage for now.
Whenever I see a kite flying in the sky, it always takes me back to my summer holidays by the seaside. My grandparents were caravan fanatics and every summer they would take me and my sister with them up to Bridlington or Scarborough for a few days.  It was on one of these trips that my granddad bought us our first kite. We spent hours (or it seemed like it at the time) running up and down the beach trying to launch and keep our kites up in the air for more than a few seconds. It was hard work, but our competitive streak keep up striving to see who could keep their kite up in the air the longest.
How to make  Kite Collage Card
Supplies
White card
Green, blue, red and yellow paper
Brown paper bag
String
Small bow
Cotton ball
Glue and sticky tape
Ahead of the activity
Fold a sheet of white card in half to make a card.
Cut out a green sheet of paper slightly smaller than the white card and a then a sheet of blue paper slightly smaller than the green sheet of paper.
Cut out a Kite shape from the brown paper bag.
Cut out small red and yellow triangles to decorate the kite.
Cut a small piece of string to attach the the kite.
Lay all of the materials out along with glue and sticky tape.
If you are doing this activity with children aged 5+  then encourage them  to do  as much of the preparation as they are able for.
Assembling your Kite Collage Card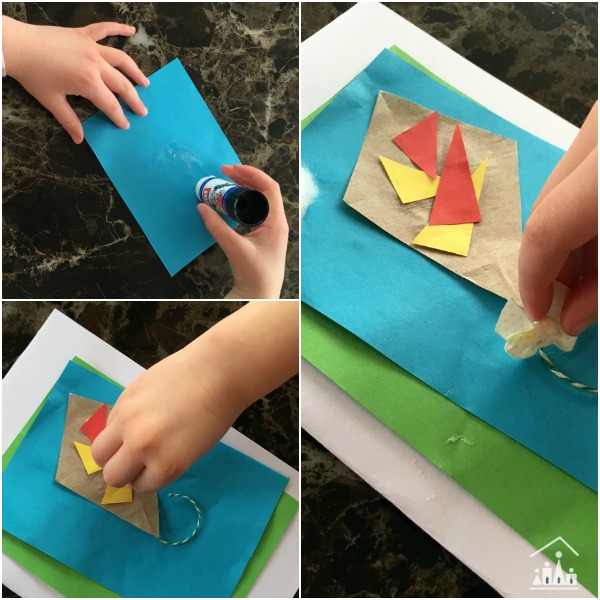 Glue down the green and then the blue sheets of paper into the centre of the white card.
Before you glue down the main body of the Kite, use sticky tape to attach the string to the back of it.
Glue down the kite and add on the coloured triangles to decorate it.
Add a bow onto the string if you have one or use a button in its place.
Finish your card off with a fluffy cotton ball cloud up in the sky.
Hosted by Witty Hoots here are some more fun ideas to do with Kites.
Witty Hoots made these easy to make Kite Gift Tags that would brighten any present.
Peakle Pie shares some cute Kite Bookmarks, ideal for readers young and old.
KiddyCharts has some great ideas for Kite Cards ideal for Valentine's Day or just to show you care.
Pray Species creates these adorable crafts in Flying a Kite Toddler Style