Playdates. Love them or loathe them, they have become an expected part of our children's social calendar. With 3 kids of my own to manage, I have hosted and dropped kids off on many playdates, I have learnt a few important lessons along the way. which I am going to be sharing with you in our new Playdate Survival Guide series.
Playdate Survival Guide
When I was growing up, playdates weren't really a thing. We occasionally went for tea at a best friends house after school or we'd play out with our friends in the school holidays (and all of this was not before we started secondary school). But now even my 3 year old gets invited out on playdates without me!
What age do you think kids should start to go on playdates without a parent or carer?
Hosting a Playdate
When it is your turn to host a playdate there are many dilemma's to negotiate.
What kind of snacks to provide?
Length of time to invite them over for?
What to do if the children fall out or get bored of each other?
Free Play or Set up Activities for them?
Today I am just going to be providing an over view of these dilemma's to get the conversation started, before going into each topic in more detail in further upcoming posts.
Playdate Snacks
We generally host playdates after school and the kids are always starving and are ready to eat straight away. So I try and get snacks ready before I go and collect them, so they are ready to unwrap as soon as we arrive home.
A good balance of healthy foods along with a few treats is the way I usually go with playdate snacks. You don't want to send kids home on a sugar high (you'll never get that all important invite back or they will do worse to your kids when they have them over) BUT you don't want to be "The mean mum who didn't serve biscuits."
We love a combination of the following:
Sandwiches – keep fillings simple. Cheese, ham or jam are favourites around here.
Crackers
Bread Sticks
Pitta Pizza
Fruit
Vegetable sticks
Cheese
Yoghurts
Crisps
Popcorn
Cookies
Remember as well to check for any allergies if you are planning to serve food at your playdate.
Bad Behaviour
Knowing when to step in and when to leave them to it, can be a delicate balance to negociate.
Remember it is your house, so all of the kids should follow your rules. If they don't, then try and have a discrete word with the offender (and it might be an idea to remove any treats at this stage).
Tips on how to limit bad behaviour
Limit/avoid screen time.
Stay close by so that you can step in before things escalate.
Remove any favourite toys from reach that your child may have issues sharing.
Put a time limit on the playdate.
Have activities ready to suggest if you need to distract/get things back on track before home time.
Length of Playdate
You want it to be long enough to give the other parent a break, but not too long that the kids start to get bored/overtired/fall out. For my 3 and 6 year olds 1.5 hours max is enough for them and around 2.5 hours for my 8 year old.
If the playdate runs late for some reason and the kids are getting fed up, this is the time to step in with a cartoon or maybe an extra snack to keep them going.
Playdate Activities
I generally let the kids take the lead when they have friends over. My boys (6 and 8) often start with Lego and then move on to an art or craft activity or take a ball outside and then come back in and play a game or two.
My daughter is only just starting out, so I am still learning about having extra girls in the house!
Sometimes you do need to step in with an activity suggestion, especially if things are starting to get quiet or they are not getting along that well.
You could:
Bring out some Play dough.
Grab paper, colouring books and crayons.
Set up a painting activity.
Do some baking.
Send them outside to play.
Select a few board games to choose from.
Put on some music and have a disco.
I would love to hear about your own experiences on hosting playdates. What works for you? What questions do you ask when dropping your child off on a playdate? What tips can you offer other parents just starting out?
You might also like:
Check out our Cooking with Kids Blog Hop for Playdate Snack Ideas: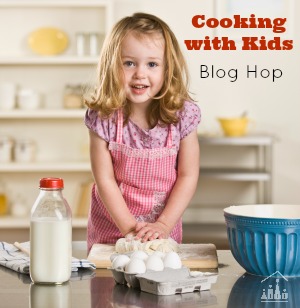 Sign up to our newsletter so you don't miss the next post in the series and get a FREE Activity Planner for Your Kids.