Do you have any Polar Bear fans in your house? These powerful creatures are a firm favourite around here. I think for kids there is something really magical about the crisp white snowy habitat of the Polar Bear up in the Arctic, which really captures their imaginations. They look pretty cute and cuddly as well don't they? We have joined up with  The Jenny Evolution and lots of fantastic book loving bloggers to bring you lots of ideas for Winter and Holiday Children's Story books. We are sharing a selection of Polar Bear Books for Kids, which will educate and entertain your children over the winter holidays.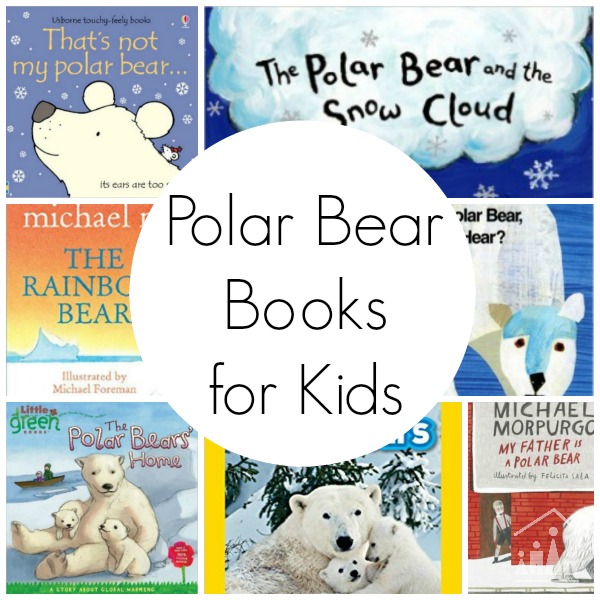 This post contains affiliate links for your convenience. 
Before  kids I worked as a Librarian, so books have always and always will be a big part of our family life. There is nothing nicer than snuggling down to a story with my kids, knowing that not only are we spending some quality time together and also learning new words and building upon their own reading skills. Books are also a brilliant way to introduce new concepts to them, discuss difficult subjects with them and to teach them about the world that they live in.
I have chosen a selection of Polar Bear books for kids today, which reflect the age ranges of my own children (3, 6 and 8). I hope that you will be inspired to read a few of them with your own children. Polar bear books in particular are a great way to introduce the important subject of global warming with your kids, it is never to early to start to teach them about how they can protect not only the polar bears from the melting ice caps, but also the whole of the world around them.
Polar Bear Books for Kids
Polar Bear, Polar Bear, What do you hear? by Eric Carle
A playful sequel to Brown Bear, Brown Bear, What do you hear? It uses simple rhythmic text to introduce kids to animals, colours and sounds. Age Range: 2-5 years.
Polar Bears (National Geographic Kids Super Readers: Level 1)
Full of fascinating facts and beautiful images, this book provides your child with their first independent look into the world of Polar Bears. Age Range: 6+
The Rainbow Bear by Micheal Morpungo 
Find out what happens when a polar bear gets fed up being snowy white and dreams of becoming all the colours of the rainbow instead. Age range: 5-7 years.
Little Polar Bear by Hans de Beer
Loveable Lars shows that even the unlikeliest of friendships can blossom after he befriends Robby the Seal. Age range: All ages.
The Polar Bear's Home: A Story about Global Warming by Lara Bergen
An Arctic adventure which discusses how global warming effects two polar cubs and their families. The book, which is made from recycled paper, also contains tips for kids to teach them about they can help to slow down global warming. Age range: 6+
My Father is a Polar Bear by Michael Morpungo
A delightful tale from master storyteller Michael Morpungo, about two young brothers who rediscover the birth of their father in the most unlikely of places. Age range: 7-10 years.
That's Not My Polar Bear…by Fiona Watt
Bright colourful illustrations, with different textures to feel on each page, make this a delightful book for toddlers to explore and enjoy. Age range 0+
The Polar Bear and the Snow Cloud by Jane Cabrera
A lonely little Polar Bear who makes animal shapes out of snow to play with, goes in search of a true friend. Age range 5+
You might also like: