Invite your child to play a special game of I-Spy, whilst you wait for the St Patrick's Day Parade to pass or play along at a Paddy's Day Party. Our Rainbow Rice I-Spy Bottle is easy to make and will keep your little ones busy for ages.
Excitement levels are building in our house for the upcoming St Patrick's Day Parade. BUT we have a big dilemma this year, do we march with the boys Soccer Club, GAA Club, Karate Club or just enjoy it all from the side-lines?
Whatever way we decide to go, it will mean a long wait on the side lines with my 3 year old daughter, so I like to bring a few activities along with me to stop her from getting bored (and eating up all of the snacks in the first 10 minutes!).
Click here to receive a FREE copy of our eBook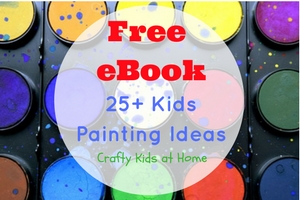 We made a big batch of Rainbow Rice recently, which we have already used in our Rainbow Rice Sensory Writing Tray and in our Math Addition Sensory Bin for The Kindergarten Connection. The bright colours have been a big hit with the kids, so I decided to add it to another one of our St Patrick's Day activities and added some to a Sensory Bottle and turned it into an I-Spy game for all of my kids to enjoy playing with.


How to make a Rainbow Rice I-Spy Bottle
This post contains affiliate links for your convenience 
Supplies
Empty  Soda Bottle
Shamrock Glitter
Selection of small trinkets e.g. dice, bead, paperclip, lego, coin, pom pom, googly eye, pin
Preparation
Use a funnel to pour the rainbow rice into the empty soda bottle.
Take a photograph of all the small trinkets to use as a guide during play.
Add in the small trinkets and give it a good shake up.
Use hot glue to firmly secure the lid in place (essential if you are going to let very young children play with this bottle)
How to Play
Kids of all ages will enjoy the challenge of finding all of the items photographed inside the bottle.
Older kids may wish to write them down as they play to keep track of what they have found already.
You might also like:
Click here to receive a FREE copy of our eBook