Make a unique salt dough craft in the style of Niki de Saint Phalle for an art loving Dad this Father's Day.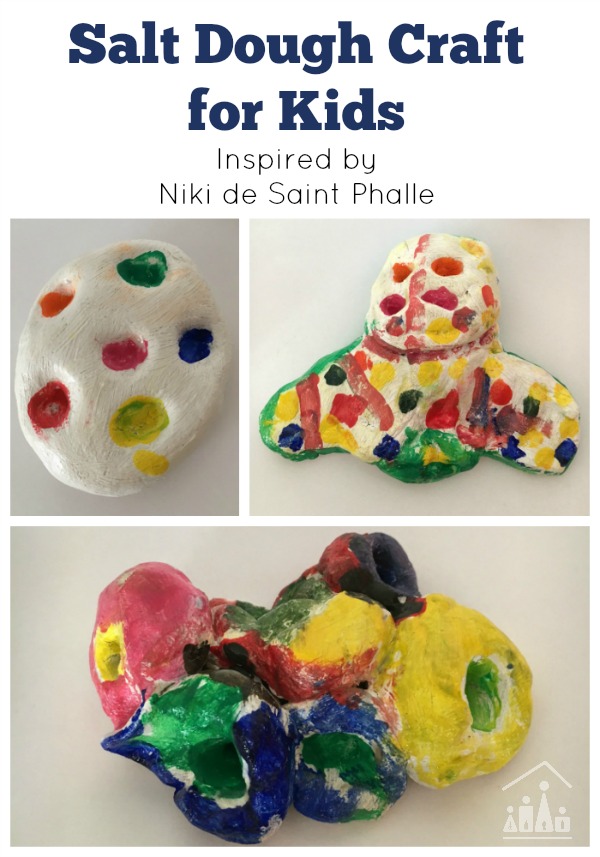 We love painting and making over here at Crafty Kids at Home and we are always keen to try out different materials and techniques in our projects. Over the next few weeks I will be inviting my children to look at different works of art by famous artists and then asking them to have a go at re-creating the ideas and techniques used to create their own mini master pieces.
Exploring art with your children from an early age helps them too:
Develop their skills of observation when you invite them to look at a piece of art.
Build their vocabulary as you discuss each piece of art.
Think critically as they decide what they do and don't like about a piece of art.
Salt Dough Craft for Father's Day
Although nowhere near an expert on the subject, my husband loves a trip around an art gallery and is always on the look out for interesting pieces of art for our home. So when we came across the very large brightly coloured sculptures of Niki de Saint Phalle, when browsing through some kids art books, we came up with the idea of re-creating them in a salt dough craft. The perfect Father's Day gift to go on daddy's desk.
How to make Salt Dough
Ingredients
2 cups of flour
1 cup of salt
1 cup of warm water
1 table spoon of cooking oil
Add the flour, salt and cooking oil to a large bowl or electric mixer and gradually add the water whilst stirring until a ball of dough is formed. Too wet then add a bit more flour. Too dry then add a bit more water.
It is very important that you knead the dough for a good 10 minutes as this will help to improve the texture of the dough. Get the kids involved with this or if you are short on time pop it into an electric mixer for about 5 minutes.
Salt Dough Craft inspired by Niki de Saint Phalle
I divided our ball of salt dough into 3 and set each of my kids the challenge of making a salt dough craft based on the ideas they had seen from Niki de Saint Phalle's in the Usbourne Children's Book of Art.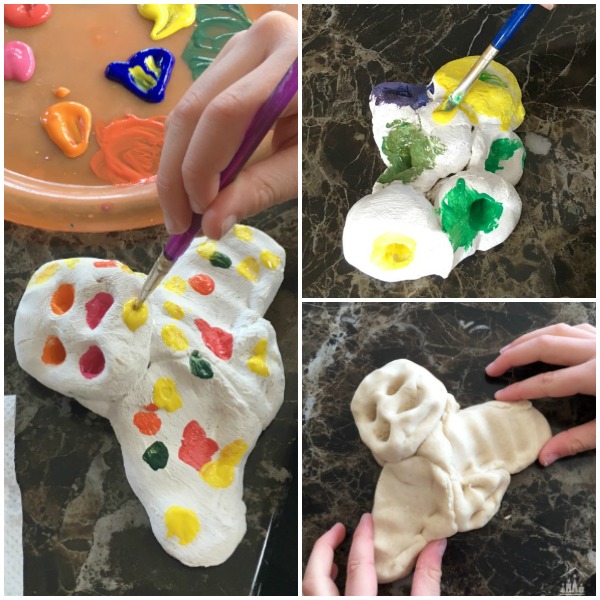 I tried not to get too involved with their designs, as I wanted to see what they could come up with themselves. My two sons (aged 6 and 8) were full of ideas, but I did have to give our 4 year old daughter a hand with her sculpture.
Once they had finished moulding their salt dough sculptures we popped them into a very low oven (approx. 110C) for around 1.5 hours, taking them out once they had become hard.
We left them to cool and then covered the with a layer of white paint, then added on lots of bright colours and finished off with a layer of gloss Modge Podge to give them some added shine.
There were quite a few stages to go through to make our salt dough craft, but putting in the extra effort is worth it for a special Father's Day gift. If you do decide to have a go, leave yourselves at least 2 days to complete them.
For more Father's Day Ideas check out the following posts:
Baby-Made Father's Day Gift by Mom Explores the Smokies
Father's Day Paintings from Kids by Mom Inspired Life
Father's Day Watercolor Resist Bookmarks by Cutting Tiny Bites