Challenge your kids to craft Spring Chicks over the Spring Break.
Setting up an Invitation to Make, is the ideal way to keep kids of different ages busy on the same activity. All you need to do is lay out the materials and then sit back and watch each of a your children use them to make their own individual creations.
A few other handy ways to keep siblings playing happily together over the Spring and Easter holiday include Imaginative Play or get the paints our for an Art Session.
For lots of new Painting Ideas download a FREE copy of our eBook now.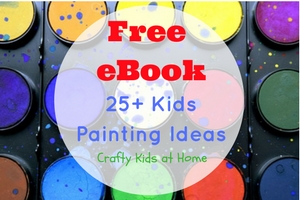 Invitation to make a Cute Spring Chick Craft
This post contains affiliate links for your convenience
Supplies
TP Rolls
Yellow Tissue Paper – cut into small squares.
Yellow Paper – cut into small squares.
Orange Paper – cut into small triangles for the beak and feet.
We had a lovely afternoon together making our Chicks and they are a very welcome addition to our Easter decorations.
As well as arts and crafts supplies, sensory materials such as Play Dough, also make a good focus for an Invitation to Make activity. My kids had great fun with this Incy Wincy Spider themed Play Dough Invitation and if you want to make some more Spring Chicks try these very colorful ones.
Don't forget to downloand your FREE copy of our eBook 25+ Kids Painting Ideas