Our St Patrick's Day Potion Play is the perfect antidote to banish the "Stuck Indoors Blues". Plus your pre-schooler with learn about colour mixing and work their fine motor skills in this fun water play activity.
The bug doing the rounds at nursery finally caught up with Little Miss B, so she had to spend a couple of mornings at home with me. To keep her occupied and  distracted from her woes, I set up a simple water play activity (which turned out to be a great way to cool her temperature as well!). She has always found water to be very soothing, so we often turn to it when she is feeling a bit under the weather.
St Patrick's Day is not too far away so we used this theme as the basis for our sensory play session.
Click here to receive a FREE copy of our eBook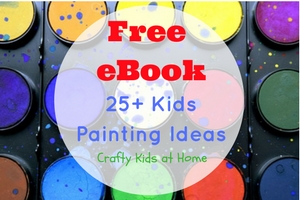 Supplies
3 large plastic containers
Large tray or tuff spot to contain the spills
Cups for scooping and pouring
Large water droppers
Whisk
Spoon
Funnel
Frogs
Potion Ingredients
Gold glitter
Red and Yellow Water
Shamrock Confetti
Ahead of the Activity
Fill two of the containers with warm water. Add a few drops of red food colouring to one and a few drops of yellow food colouring to the other.
Lay out all of the tools inside the tray.
Have towels on standby!
St Patrick's Day Sensory Play – Colour Mixing Potions
She began scooping and pouring the red and yellow water into the empty container.
"It's turning Orange. It must be a magical potion!"
Then she sprinkled glitter and shamrock confetti over the water (lots of glitter)
Potions need a good mix together and she got stuck in with the spoon and then the whisk.
Once she had emptied out all of the glitter and shamrock confetti from the pots, she enjoyed mixing mini potions in the little dishes for ages.
Then wold you believe it her potion made some frogs appear!
Click here to receive a FREE copy of our eBook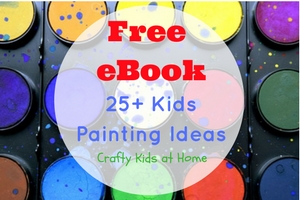 I have teamed with some of  my blogging buddies to bring you lots more ideas for St Patrick's Day themed activites to try with your kids.
St Patrick's Day Preschool Potion Play from Crafty Kids at Home
Egg Carton Shamrock Craft from Play & Learn Everyday
The Night Before St. Patrick's Day  from Kelly's Classroom
Rainbow Rainmaker from Mum in the Mad House
Michael Finnigan Craft from Craftulate
Shamrock sun catcher craft from The Gingerbread House
Rainbow Hearts Craft from Our Whimsical Days
Shamrock Stones from Sunny Day Family
Luck of the Irish Mickey Mouse Oreo Pops from Crafty Mama in ME
Kids' Kitchen: Over the Rainbow Cupcakes from Sugar, Spice & Glitter
St Patrick's Day Counting Worksheet from Larabee UK
Pot of Gold Number Mats from The Kindergarten Connection
St Patricks's Day Playdough from Clares Little Tots
Rainbow Buttons Color Sorting & Craft Activity from Kidz Activities
Pot o' Gold DIY Piggy Bank from Playground Parkbench
Rainbow Duct Tape Rainbows from Teach Me Mommy
Free Printable: How To Make & Set Up A Leprechaun Trap with Leprechaun Letter from Play Dough & Popsicles