Make this a summer to remember with an action packed activity schedule that is full of activities for siblings to do together.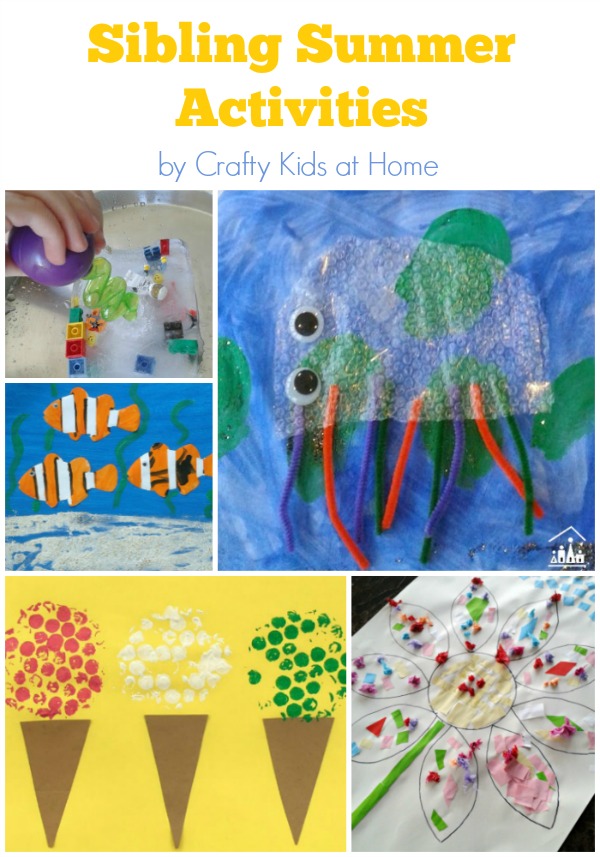 Being a busy mum of 3 kids, I know how hard it can be to juggle long summer days at home with your kids. We all relish the break from our routines that the school holidays bring with them, but the novelty of long lazy mornings can soon wear off and you start to hear calls of "I'm bored" before you know it. Stay one step ahead this year with our handy list of activities, all of which you can have prepared or be easily set up when you need them most.
Sibling Summer Activities
I have selected our favourite activities so far for this list, the ones that my kids really connected with and had awesome fun with. We will certainly be doing lots of them again over the holidays and hopefully coming up with a few new ones to share with you all over on Instgram as well as the blog.
Sibling Arts and Crafts
Pick your favorite flavors and make Bubble Wrap Ice-creams together.
Explore the works of Kandinsky and invite your kids to make their own interpretations.
Make Bubble Wrap Jellyfish together.
Work together on a big Collaborative Flower Collage to help strengthen their sibling bond.
Make a Collage together  down on the beach.
Invite your kids to make their own version of our Cute Paper Plate Crabs.
Have fun painting Tape Resist Clown Fish together.
Raid your baking supplies and challenge your little monsters to make some Cupcake Liner Monsters.
Work together on a Junk Art Robot.
Sibling Pretend Play
Sit down together to make these Cardboard Tube Old Macdonald had a Farm Puppets and then put on a show.
A new twist on an old classic – Playing Cafes together.
Have a Dressing Up Box to hand for those inevitable summer rainy days.
Help your kids to make their very own Photo Comic Strip.
Sibling Backyard Fun
Challenge your kids to work together to unlock the secrets enclosed in this Lego Discovery Ice Cube with just a few simple tools. A great teamwork activity for siblings.
Work together or make their own Miniature Fairy Gardens.
Send the kids off to find blankets and choose a teddy to bring along to their Backyard Teddy Bear's Picnic, whilst you load up the food.
Go on a scavenger hunt around the garden for items to test in a simple Sink or Float Experiment.
Sibling Sensory Play
Host a pretend birthday party complete with home-made Jelly Play Dough Cup Cakes.
Get messy together making our Pretend Ice Cream Sundaes.
Blowing Bubbles is our go-to activity for cheering up grumpy kids on a rainy day.
Mix up a batch of play dough and make Incy Wincy Spiders together.
And if it rains…