Are you looking to inspire your child and develop their thirst for knowledge from an early age? It's never too early to introduce them to STEM activities. Start now with these fund hands-on Halloween STEM activities.
What is STEM?
STEM is an acronym for Science, Technology, Engineering and Maths. STEM activities involve 1 or more of these disciplines to teach your child about the world around them. Introducing your child to fun STEM activities from a young age is a great way to encourage their interest in these important subjects, which they will hopefully carry through into later life.
Adding a theme to your STEM activities is a brilliant way to engage their little inquiring minds. Here are 10 Halloween themed STEM ideas to you get started:
Top 10 Halloween STEM Activity
This post contains affiliate links for your convenience. 
Learn about Slime in this Squishy Science and Sensory Play activity. Then place it into a pumpkin or cover it in googly eyes.
Amaze your kids with these Self-inflating Ghosts. An experiment to demonstrate what happens when you mix baking soda and vinegar together.
Have fun predicting and observing what happens when you place Candy Pumpkins into different liquids in this experiment.
If you love STEAM Activities then you are going to LOVE this book: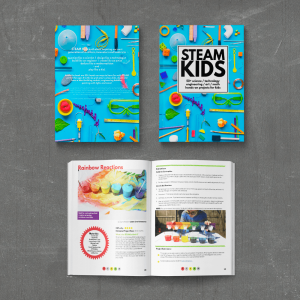 Available as an E-BOOK or PRINT VERSION.
Make these Haunted Halloween Hands and have fun melting the ice to unlock the treasures inside.
A Halloween twist on a Classic Bubble Science Play Activity.
Engineer these Flying Ghosts using Alka Seltzer.
Engineer your own Structures using Candy Pumpkins and toothpicks.
This Candy Corn Counting Game  uses foam pumpkins and candy corn to reinforce number skills.
Match up numbers or simple sums on this Haunted House Math Activity.
Enjoy a fun new twist on the Classic Vinegar and Baking Soda Trick using a pumpkin.

You might also like:
For more Top 10 Halloween and Pumpkin Fun check out the following links:
Top 10 No Carve Pumpkin Decorating Ideas from Sunny Day Family
Top 10 Pumpkin Fine Motor Activities from Craftulate
Top Ten Halloween STEM Activities from Crafty Kids at Home
Top 10 Halloween Dinner Ideas from Our Good Life
Top 10 Unusual Ways To Play With A Pumpkin from Adventures of Adam
Top 10 Easiest Halloween Crafts from P is for Preschooler
Top 10 Book-based Halloween Activities from Artsy Momma
Top 10 Unusual Party Ideas for a Terrific Halloween from Peakle Pie
Top 10 Pumpkin Art and Craft Ideas from Witty Hoots
Top 10 DIY Halloween Lanterns from Rhythms of Play
Top 10 Pumpkin Crafts made with Handprints from Fun Handprint Art
Top 10 Halloween Games and Activities from Play & Learn Everyday
Top 10 Pumpkin Recipes from Nemcsok Farms
Top 10 Pumpkin Science Activities from The Pleasantest Thing