We are very excited to be taking part in Adventure of Adam's A-Z Tuff Spot Challenge for the second time this week. We have already tackled Q is for Quiet Time and now it is the turn of the letter S.
This was a very easy choice for us, as our absolute favourite messy play ingredient is Shaving Foam and we love to put it into our tuff spot to play with. Shaving foam is a brilliant for older toddlers to mess around with and as it is water based it is relatively easy to clean up afterwards. You will see later on how Bella really did put this to the test!
As we were tackling the letter S, I wanted to try and squirt an appropriate picture into our tuff spot for my toddler to play with. So I attempted a sheep. But I hadn't realised quite how hard it would be to paint a sheep using a can of cheap shaving foam. Bella didn't seem to mind though.
I added in some waterbeads, as these go really well with shaving foam. Be very careful though when using waterbeads with toddlers, do not leave them unsupervised for even a second, as they are not taste safe. If your toddler does accidentally swallow one, then please seek medical advice immediately.
I wanted this activity to be toddler-led as much as possible. Messy play should be all about letting kids explore and play as they want to and to just get really, really messy.
When you are doing a messy play activity with your toddler, make sure to have kitchen roll, wipes, towels and a bowl of soapy water on standby. And don't attempt messy play if you need to rush out anywhere shortly afterwards or you have the Mother-in-law calling over!
Bella really did go for it with this activity and did not hold back on the mess!
She baked snowcakes with spoons and sponges.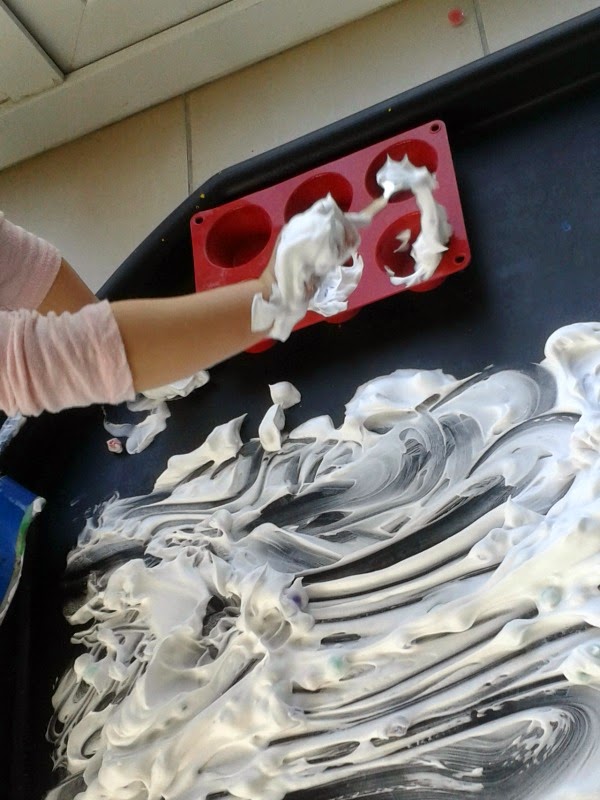 Mixed up shaving foam soup.
Stuck her feet in.