We are back with our favourite series on the blog, Rhyme Time! This week we are sharing ideas and activities for the nursery rhyme Twinkle, Twinkle Little Star. My kids are 3, 5, and 7, so our days sat singing "Twinkle Twinkle" during circle time at toddler groups are over (sob!). I still remember it being one of the first nursery rhymes that they learnt the words and actions for. We do still sing it at home from time to time though, as you really are never too old for nursery rhymes!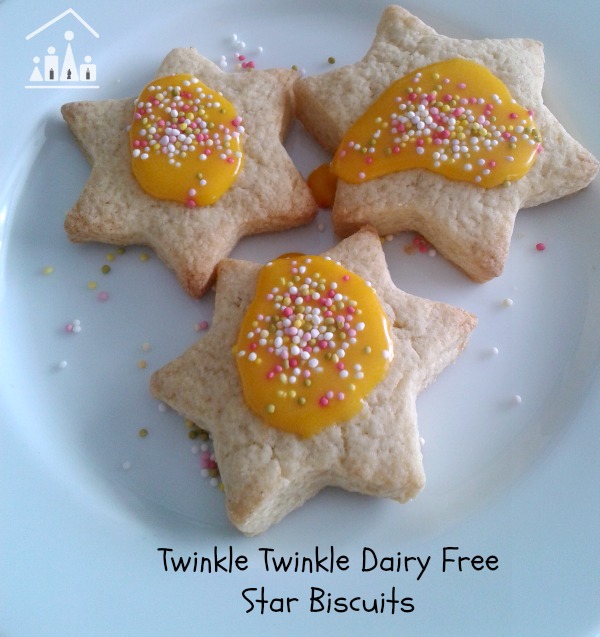 Last time on Rhyme Time we shared our Little Miss Muffet Bouncing Spider Craft, which would make an excellent preschool Halloween craft to do this month.
My eldest son was feeling a bit out of sorts and had to have a day off school (I think he was just exhausted more than anything, as 2nd Class is such a huge step up). So we enjoyed some rare mummy and eldest son time. He is really interested in cooking and baking right now (we are all totally obsessed with this season's Great British Bake Off!) so I took the chance to teach him how to make a Hearty Vegetable Soup. Soup is perfect for nourishing tired kids and makes an excellent after school snack as well.
We then did some fun baking in preparation for his brother's planned play date (he probably shouldn't have had any of these due him to being off school sick, but somethings you just need a bit of tlc and comfort food to get you back on track.)
How to bake Twinkle Twinkle Little Star Dairy Free Star Cookies
My middle son is cow's milk intolerant, so it was important that we made the recipe dairy free for him to enjoy with his friend.
Previously on the blog we have shared our recipes for Dairy Free Chocolate Cookies and Dairy Free Scones.
Ingredients
This post contains affiliate links for your convenience. 
100 g dairy free spread
75 g caster sugar
2 oz plain flour
1 large egg yolk
1 teaspoon of vanilla extract
1-2 tablespoons of almond milk
Icing Sugar
Sprinkles
Method
Pre-heat your oven to 200/Gas Mark 6 and lightly grease 2 baking trays.
Cream together the dairy free spread and sugar.
Beat in the egg yolk and vanilla extract.
Sieve in the flour and mix to form a soft dough.
Knead lightly and roll out onto a floured surface until the thickness is around 5 mm.
Take your star cutter and cut out your biscuits and lay them across your trays.
Bake for approx 12-15 minutes or until pale golden brown.
How to decorate Twinkle Twinkle Little Star Dairy Free Cookies
Then came the fun part, decorating them with a little icing sugar mixed with water and a few drops of yellow food colouring. Plus of lots and lots of sprinkles to make them twinkle!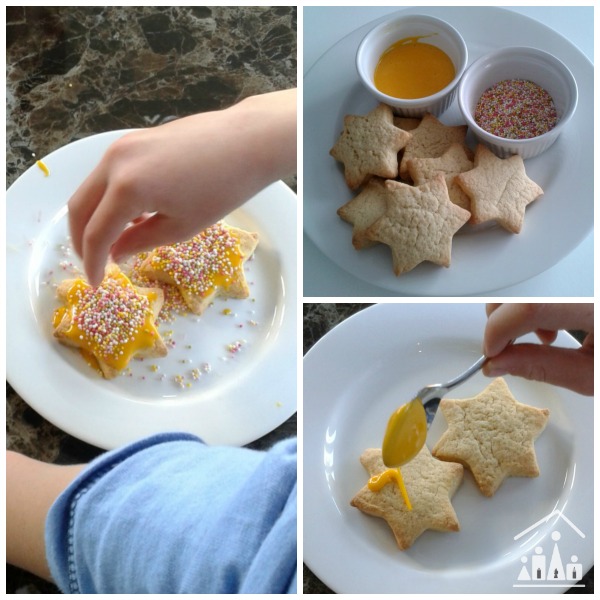 Our Rhyme Time buddies have been busy with their Twinkle, Twinkle Little Star activities this week as well:
Best Toys for Toddlers enjoyed some Twinkle Twinkle Potato Stamp Art.
I love this DIY Twinkle Twinkle Little Star Light Up Canvas from Adventures of Adam.
How about making this Kid-Led Twinkle Twinkle Star Lantern from Teach me Mommy?