The Frugal Family Linky is back for a new week, so get your frugal tips, tricks and activities ready to link up at the bottom of this post. Here are my featured posts from last weeks linky:
DIY Cardboard Building Blocks from Sunny Day Family
Junk Art Robot
 from Multicraftingmummy for Hands on as we GrowDon't forget to grab our badge if you have been featured!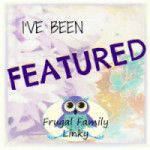 We are on full-on birthday mode in our house this week, as my youngest turns 3 at the weekend.We are having her party at home, which is a great way to help keep the costs down. To keep on track with the organisation I have been using our 
birthday party checklist
.
Frugal Tips to keep birthday party costs down
Save money on invitations by making your own or sending an email or text instead.
Buy basic plates, cups and napkins instead of over-priced themed versions.
Make your own birthday banners or bunting to decorate the party room.
Keep food simple and make what you can yourself.
Bake your own cake.
Why not pop over and catch up on what our co-hosts have been upto and to see which posts they have featured from last week:
Thanks
for sharing your frugal blog posts with all of us! By linking up you
give my co-hosts and me permission to use a picture from your post to
feature you on our sites or through social media sites such as Twitter
or Facebook. Pictures will only be used to feature the post that you
shared and may be incorporated into a 'featured post' collage. We will
always contain a link directly to your blog if you are featured on the
Frugal Family Linky.

Feel free to grab our badge
and add it to the bottom of your post: