An Ocean Theme or Preschool Unit is always a winner with kids. There are so many interesting underwater sea creatures for kids to have fun making and learning about. We have pulled together the best under the sea arts and crafts is our ultimate list below.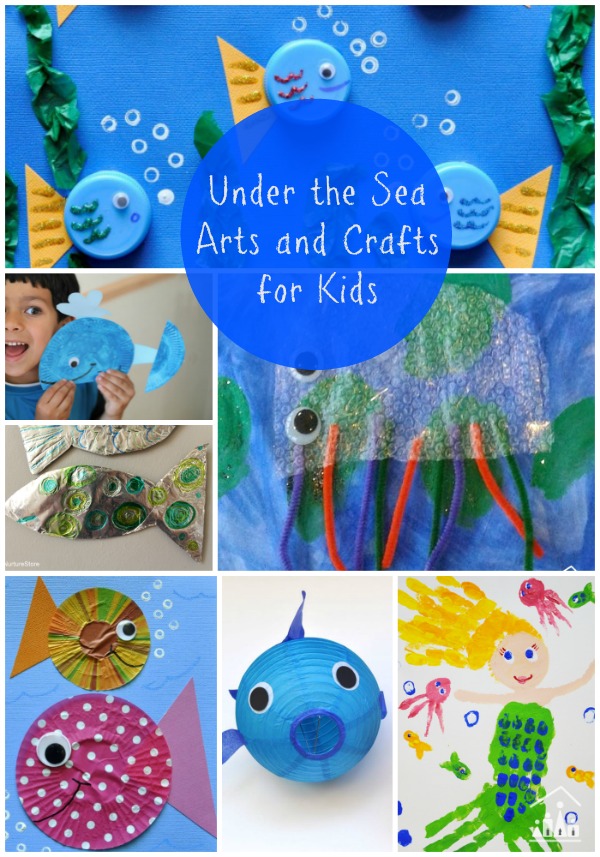 Here is our Ultimate List of Under the Sea Arts and Crafts for Kids
Kick off crafting with the biggest mammal in the ocean and make a Paper Plate Whale.
Jelly fish are such interesting creatures and  fun to make. Especially this Jelly Fish Recycle Craft and our favourite ocean craft of all these Bubble Wrap Jelly Fish!.
Recycle and create with a Bottle Tops Under the Sea Scene or make a shiny school of Foil Fish.
We do like crafting with paper plates! Look at these adorable Paper Plate Crabs, Paper Plate Sand Dollars and Paper Plate Stingray and crafts!
These Paper Lantern Fish will make adorable decorations for an Ocean themed party!
Toilet paper rolls or cardboard rolls are another fabulous recyclable to create with. A great one is this Toilet Paper Roll Octopus!
Do your kids love coloring? Print out these Ocean Kids Coloring Pages for them and while you are at it, print some out for mom as well: Under the Sea Adult Colouring Pages.
And don't forget the lovely recyclable: egg cartons! Make these Egg Carton Oysters to teach kids all about pretty oysters!
Turn Cupcake Liners into Colorful Fish.
Use the kids' hands for a cute Mermaid Handprint project and then make your Mermaid her very own purse.
Use natural materials collected on a trip to the beach to make an Under the Sea Collage.
Interesting ways to paint ocean creatures include this Marbled Fish Art and Bouncy Ball Printed Pufferfish.
Crafts a Shark Fin Hat the kids can actually wear!
Lastly, this Sea Horse Art Project is such a fun process and so pretty too!
Thanks to Nadia for this round up. She blogs over at Teach me Mommy about easy and playful activities with the aim to teach. You can follow along on Facebook, Twitter, Pinterest and Instagram.
You might also like:
Click below to sign up to receive our newsletter and receive a Free Kids Activity Planner for Your Kids.