Invite your pre-schooler to practise their cutting skills on a bunch of fragrant fresh flowers.
I really wish that I was better at gardening. I try my best, but apart from a few Sweet Peas, my attempts at growing flowers to cut and bring indoors have been a long list of dismal failures.
Hopefully I will unearth my green fingers one day, but until then, I will have to be content with my monthly indulgence of a bunch of fresh flowers from the local supermarket to display at home.
When purchasing my latest display, I popped an extra bunch into my basket for my pre-schooler to practise her cutting skills on.
She has been reluctant to put scissors to paper to improve her cutting skills, so I was hoping that some sweet smelling and  brightly coloured flowers would tempt her to pick up her scissors again.
This post contains affiliate links for your convenience.
Supplies
Fresh Flowers
Scissors
Giant Tweezers
Magnifying Glass
Deep Tray
Large Tub
Whisk
Spoon
Plastic Cups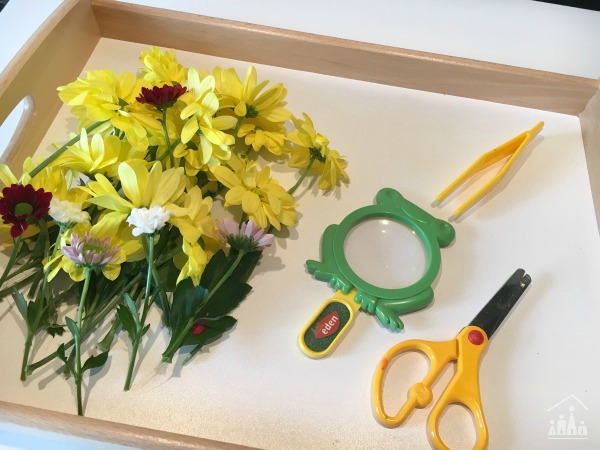 Preschool Cutting Skills Activity: An Invitation to Cut Fresh Flowers
I filled the tray full of fresh flowers and added the scissors, magnifying glass and tweezers for some flower exploration and presented them to Bella, alongside the empty tub for her to cut away into it.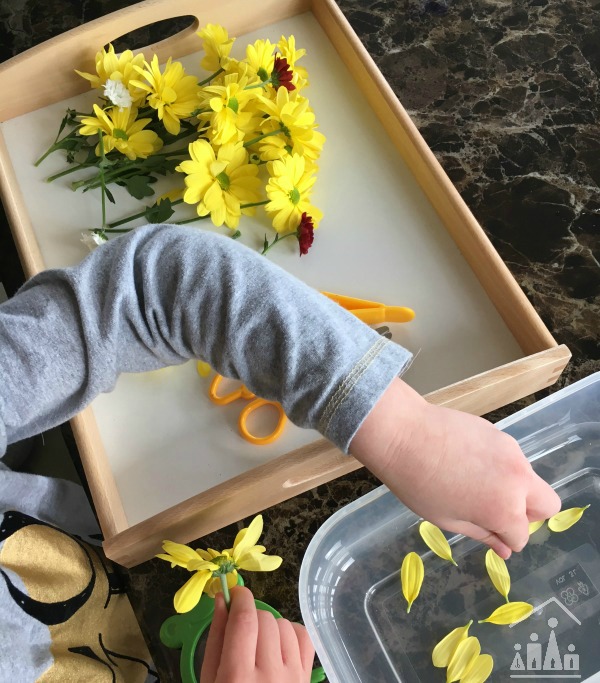 She began her exploration of the flowers with a good look through her magnifying glass, before pulling a few of the petals off with her fingers.


Next she moved onto the giant tweezers to pull away some more of the petals. Tweezers are a great tool to help strengthen your pre-schoolers fine motor skills.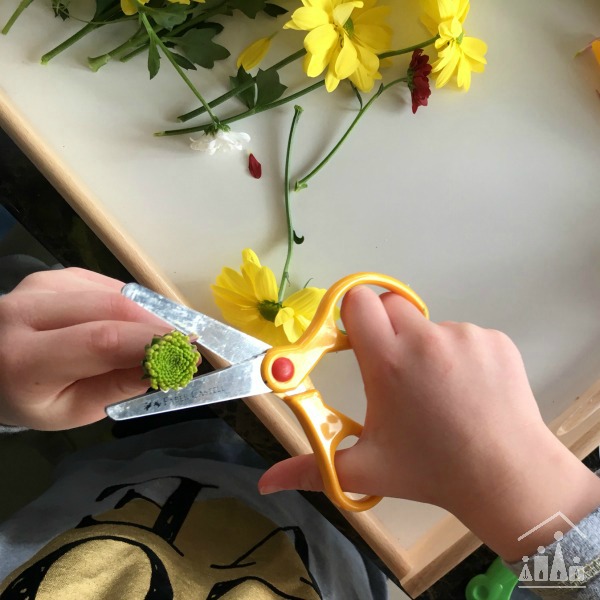 Finally she picked up her scissors and began to snip the stems into her petal mix. She happily cut up several flowers before asking some water to added to the tub.
Bella loves to play with water and she had a great time with this Daisy Soup Water Play Activity last summer.
I happily obliged with the water and added a whisk, spoon and plastic cups for her to play with.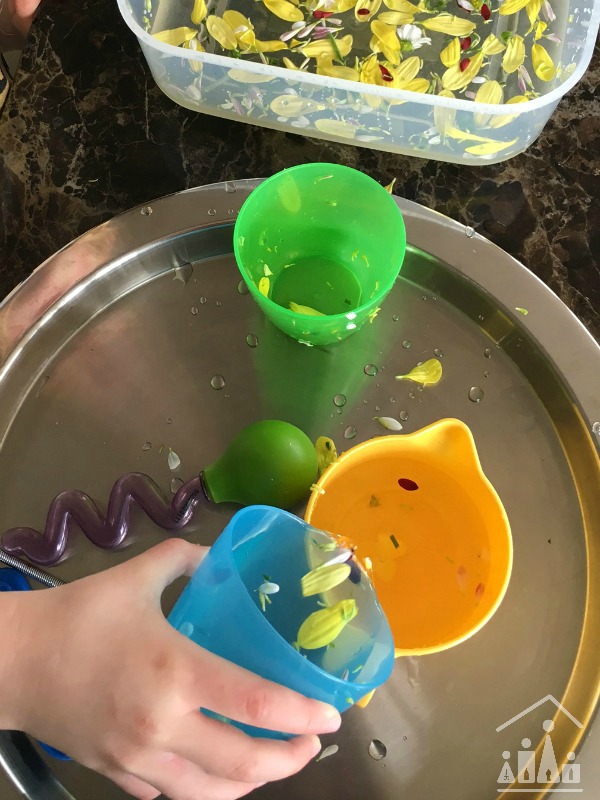 Lots of scooping, pouring, mixing and stirring went on, turning this simple cutting skills activity into a full blown fine motor skills work out.
For some more fun Flower and Garden themed activities head over and see what our Blogging Buddies have been up to:
DIY Garden Markers Inspired by Lois Ehlert | Playground Parkbench
Build a Butterfly Garden  | Nemcsok Farms
Free Printable Garden Markers | Sunny Day Family

You might also like: