Bubblewrap Salt Dough Hearts as featured on Red Ted Art
This week I have achieved one of my writing dreams and it
has left me feeling more hopeful about my long term future, as a children's
arts and crafts blogger.
I was offered the opportunity to provide a guest post for
Red Ted Art's 31 Days of Love Series
. Red Ted Art is one of the biggest and
best kid's arts and crafts blogs around and I have been a fan of it for a long
time now. So to be asked to provide a guest post for them was a blogging dream
come true. The time scale was very tight, as I was filling in for somebody who
had dropped out at the last minute, but it was too good an opportunity to pass
up, so I pulled out all the stops to get it done.
I also felt it would be a good test of my own ability. All
too often I am left feeling disheartened at the response (or lack of!) that
some of my posts receive. Being a newbie blogger, it can be hard to get your
stuff out into the public domain, I am often left wondering if my post hasn't
had that many page views because either it's rubbish or just that it is not being seen
by the right kind of people?
My post was published on Red Ted Art on Thursday and it was
shared on their facebook page first thing. I kept anxiously checking back
throughout the day to gauge what response my post was getting. I was gobsmacked
by the response. At the time of writing this the post referring to my craft had
received 573 likes and it has been shared a whooping 253 times. It gave my blog
a huge boost as well, as I had lots of new visitors over and I picked up a few
more likes for my growing
Facebook
page as well.
This has provided me with a huge confidence boost and hope
that I can achieve more with my blog over the coming months. I just have to be
patient, keep writing and work on broadening my reach, by working on areas such
as my SEO, becoming more active over social networks and joining more linkies
(and maybe even start one of my own).
This is my first time linking up for Word of the Week and I look forward to reading about yours.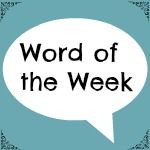 Here are the links to some more of my Valentine's Day themed arts and crafts activites for kids:
An Invitation to make…Love Bugs