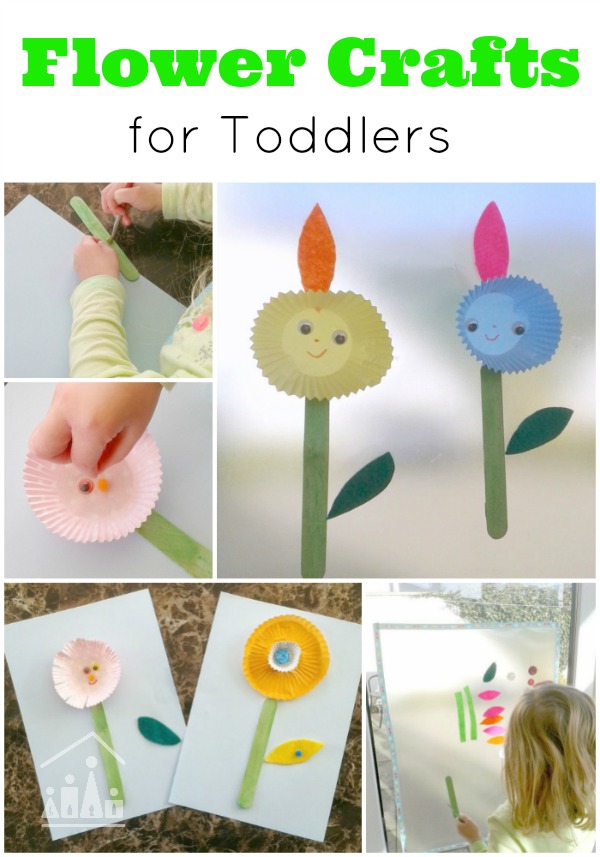 This week Little Miss B has been working on some spring flower crafts, whilst her big brothers have been busy in school. She had such good fun with them over the school mid-term break last week and she's really been missing them this week, so I've been trying to keep her extra busy to distract her until they come home.
These activities are ideal for toddlers to do, but can also be adapted to make them suitable for pre-schooler and school age children as well. I'm hoping that the boys will get some ideas from them for when they make their Mother's Day cards with Daddy soon.
How to make a Contact Paper Spring Flower Collage
Supplies
Contact Paper
Felt shaped petals and leaves
Green Popsicle Sticks
Pom-poms
Buttons
Cup Cake Cases
Googy Eyes
This was our first time using contact paper in one of our arts and crafts activities, so I was excited to see how Bella would get along with it. It was a little fiddly to get it to stick up on the window, so if you can, set up the activity ahead of time. Masking tape would be ideal to tape the contact paper to a window, but I couldn't find ours, so we used washi tape instead. This looked very pretty, but was a bit of a pain to get off the window once the activity was finished.

I carefully explained the activity to her and demonstrated a few ways to make flowers out of the items we had set out. She took no notice of me whatsoever and just dived in and starting sticking the items willy nilly onto the contact paper. She was fascinated by it and was really enjoying herself.
Then she decided to take the activity even further into her own little toddler hands. She abandoned the items I had set out for her and she marched off in search of items of her own to stick onto the contact paper. She stuck on a paint pot (empty thankfully!) and she thought this was hilarious.
She did eventually settle down next to me though and we were then able to work together to make a lovely "Flower Face". Whilst making these together I chatted to her about the different parts of the flower and asked her about the colours she was using as we went along. We also broke out our new coloured googly eyes, which I was very excited about (probably more so than Bella!) to finish our lovely flowers off.
 How to make a Cup Cake Flower
 We then reused the same items which I had laid out for the contact paper activity, but this time Bella glued them onto paper to make a lovely picture to keep. Bella took control of the gluing and sticking and I took control of cleaning up after her over-zealous use of the glue!
This activity would be perfect to go onto the front of a Mother's Day card made by a toddler. Older children could maybe expand on this idea and make a few different colours and styles of flower or maybe add on some bugs and butterflies made out of the bun cases as well. 
 

You might also like: