Are you looking for some new creative painting ideas to try with your kids? The most creative ideas come from your child's imagination, so why not have a go at some of these fun Process Art activities and see where they take them.
Process Art activities are an important part of a preschoolers learning and development. Why? Too many times a product (adult envisioned) type of activity is planned, leaving no room for creativity. With process art, kids can be creative and explore art mediums without being limited to a specific product outcome. Therefore making the activity open ended and the experience (process) the main goal. And don't be mistaken, throughout this process, learning still occurs!
Creative Painting Ideas for Kids
This post contains affiliate links for your convenience and at no extra charge for you.
Our favourite creative painting ideas from over here at Crafty Kids at Home include using Q-tips instead of paintbrushes,  Tape Resist Sponge Painting and Dinosaur Painting. Plus our latest activity Indoor Rain Painting.
We also enjoyed letting our imaginations run free in this  Mixed Media Canvas activity and Hot Glue Gun Resist Art project.
Using different materials, other than paper, to paint ON makes painting even more fun. Try Painting on Foil, Painting on Sandpaper or Watercolors on Wet Paper.
Painting WITH unconventional mediums are perfect for creative exploration. These items can be found around the house, and best of all, won't cost you a thing. Soap Pumps, Magnets, Credit Cards(Scrape Painting), CD's, Pompoms, Foam Blocks, Rubber Bands, Caps and Lids, Water Beads, Funnels and Yarn are great examples.
For even more Painting Ideas download our FREE eBook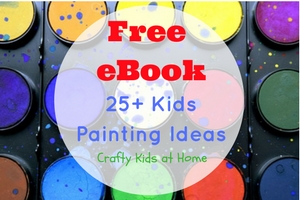 Toys are also great to use for creative painting and print making activities. Farm Toys, Trains, Buses and Cars to name just a few you have to try. (Have a fun toy washing activity afterwards to extend the fun)
Use Nature items as part of your creative process art or take the fun outside with Spray Chalk painting or color mixing with recyclables On the Slide.
Add a little science experiment to your painting activity by combining Salt, Glue & Watercolors.
Need a mess free process art activity? Try this Shake it Up method or use a salad spinner for a Spin Painting idea. Both of which are great for color mixing experiments too.
If you LOVE to get messy then have a go at this Splat Art Activity.
So many process art ideas your preschooler will definitely enjoy, and also learn a thing or two(in the process😝)!
Which one will you be trying first?
Thanks Nadia for this fun round up. You can more read of her ideas over on her blog Teach me Mommy. Which is full of easy and playful activities with the aim to teach. You can follow her on Facebook, Twitter, Pinterest and Instagram.


Don't forget to grab our FREE 25+ Kids Painting Ideas eBook before you go.