Have fun making this Little Miss Muffet inspired Bouncing Spider craft with your kids.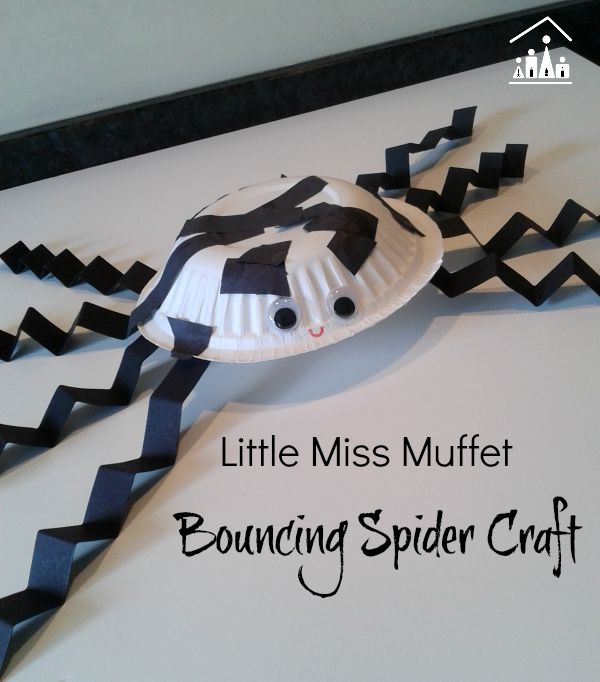 Rhyme Time is back! We've had a little break from our usual fortnightly schedule (summer break madness!) so we are delighted to be back today sharing activities to do alongside the nursery rhyme "Little Miss Muffet".
Previously on Rhyme Time we have covered Hickory Dickory Dock, 5 Little Ducks and Old Macdonald's Farm.
How to make a Bouncing Spider
I sat down with my daughter to do this activity. She started preschool this week (sob!), so last week I made sure to spend plenty of extra time just with her. We had a good chat as well about her starting preschool, whilst doing this activity.
 Sitting down to enjoy doing a craft together with your child provides a great opportunity to talk about big changes ahead in a relaxed environment.
To make your Bouncing Spider you will need:
1 paper bowl
1 sheet of thin black card
1 sheet of black construction paper
2 googly eyes
Glue
Sticky Tape
Scissors
Before sitting down with Bella, I cut 8 strips from thin black card to use for the bouncing spiders legs and I also cut the black construction paper into strips, to make it easier for her to then cut into smaller pieces to glue onto her spider.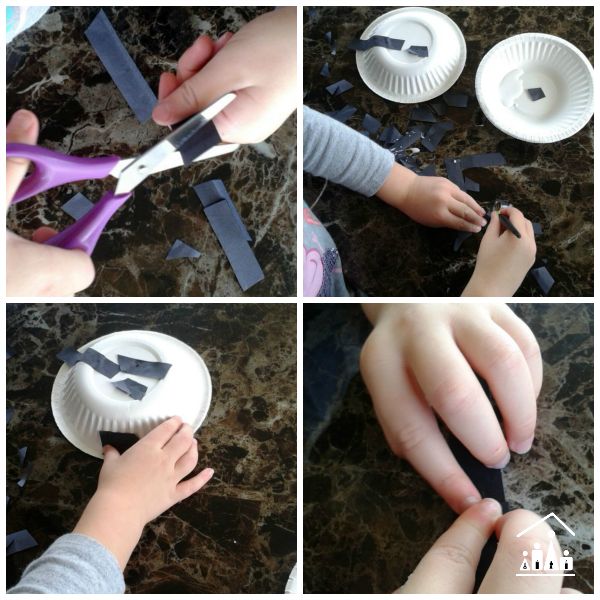 I laid out the strips of construction paper and asked Bella to cut the strips into pieces. She is just starting to get to grips with scissors, so this was good practice for her scissor skills.
She then glued these onto the bottom of the paper bowl.
Next we worked together to fold the strips of black card into a concertina to form the spiders legs. We then used sticky tape to attach these to the bowl.
Bella then stuck on the bouncing spider's googly eyes to finish him off nicely.
For more spider fun check out our Incy Wincy Play dough Spiders.
I had planned to thread a piece of elastic through the paper bowl to make the spider bounce, but Bella discovered a much more fun way to make her spider bounce.
The shape of the bowl and the legs means that all you have to do to make the spider bounce is to give him a little tap on top!
I love it when my kids come up with ideas during out activities, which end up being much better than my own.
More Little Miss Muffet fun from my Rhyme Time buddies :
Little Miss Muffet Spider Handprint from Messy Little Monster
Little Miss Muffet Rhyme Play from Teach me Mommy
Little Miss Muffet Story Telling Box from Adventures of Adam
This post contains affiliate links for your convenience