Does your child need to work on their scissor skills? Challenge them to cut out and make this fun Snowman Collage. 
My daughter is reluctant to use a pair of scissors at home and in school. We attended her first parent teacher meeting recently and whilst she is flying in most areas, she lacks confidence and the correct technique during cutting exercises. Her teacher asked us to practice with her more at home, to help boost her confidence in this important area.
To help engage her in some cutting practice at home, I came up with this activity which involves her favourite winter craft, making Snowmen. Last winter she went crazy for our Snow Dough Snowmen and her love for them hasn't faded. She was even attempting to draw them during the summer holidays.
Supplies
This post contains affiliate links for your convenience. 
A selection of white and coloured paper
Glue
Ahead of the Activity 
I drew 3 circle templates onto a sheet of white paper ready for her to cut out. Plus templates for the Snowman's hat and carrot nose.
Cutting out a Snowman Collage
I began the activity with a demonstration on how to correctly cut out one of the circles for the Snowman's body. Showing her how to move the paper around with your spare hand as you cut. Rather than putting your cutting hand into an impossible position.
She reluctantly picked up her scissors when it was her turn. But she followed my instructions and cut out a near perfect circle. Looking on with delight, she quickly picked up the third circle to cut out.
She steadily worked her way through all of the pieces for her snowman. Then set to work constructing her snowman collage onto a sheet of blue paper.
Next up was to add on his buttons (coloured dot stickers) and his face (googly eyes and black marker pen).
Focusing the activity on something that really interests her and taking the time to demonstrate and explain the process of cutting, worked wonders for her confidence. I watched her cutting out at school the following week and she was competently moving the paper around with one hand, whilst cutting with the scissors in the other. We will be keeping up the good work at home and next on our cutting list is cutting out strips to make paper chains.

If you love STEAM Activities then you are going to LOVE this book: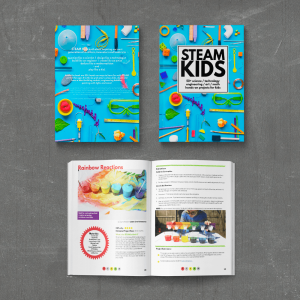 Available as an E-BOOK or PRINT VERSION.